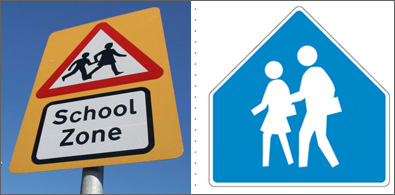 Are you frustrated with pick-ups and drop-offs and traffic during these times at your child's school? We were lucky enough to attend a recent panel on traffic safety in school zones. The speakers were Gail Robertson, Road Safety Amabassador, Insurance Hunter.ca, Linda Rothman, Hospital for Sick Children, Jennifer Reynolds, Editor-in-Chief, Canadian Family, and Police Constable Hugh G. Smith from the Toronto Police Service, Traffic Services.
We posed a few questions to some of the speakers after the panel and here are their answers. Also, feel free to answer the questions yourself at the bottom – we'd love to hear from you! If you are interested in seeing the videos from the event, scroll down to the bottom to view all three.
What suggestions can you make to parents to make drop-off and pick up better, faster and safer for everyone?
Gail Robertson:
To help keep our children safer, we ask people to follow the rules of the road. It may seem obvious but sometimes we all need a reminder that the rules are there to protect everyone – drivers and pedestrians. As both a parent and safety ambassador I know that even for myself a reminder – similar to a Public Service Announcement – can make a difference.
So no speeding, not using mobile devices, watch for crosswalks and crossing guards and of course, just ensure you are keeping your focus on the road.
Other things to consider are carpooling, looking at your child walking to school –maybe even with another older student. And if your school doesn't have a kiss and ride to start a discussion with your local school to see if you could get one set up.
As parents we need to make sure the pick up and drop off is our only focus.
Linda Rothman:
First of all, it is important that schools be encouraging kids to walk to school. Walking to school is healthy, good for the environment, great for socialization and community building and it reduces traffic congestion around schools. Any programs that can be implemented to promote safe walking to school should be considered. And safety cannot be emphasized enough. What we don't want to do is for our kids to walk where it isn't safe. We not only should be teaching our kids how to walk safely, but it is important that the physical environment is safe around schools. Things such as speeding traffic on roads where children walk to school and illegal parking near schools are unsafe and unacceptable. Schools need to look at the possibilities for traffic calming such as speed bumps near the school, valet drop off and maybe even staggered drop off times. Each school needs to look carefully at their own unique traffic situation and make appropriate changes with the help of experts if needed. When doing our research, we found that principals at elementary schools in Toronto were very receptive to receiving individualized reports from our research team regarding the traffic situation specific to their school. They subsequently reported making some excellent changes to the pedestrian traffic situation at their schools. The message we got from the principals was that they were very interested in encouraging walking to school and making the traffic environment as safe as possible around their schools.
Police Constable Hugh G. Smith:
The most common errors police officers see initially, is the increase of vehicular traffic around the schools. The biggest source of those vehicles is parents' dropping off and picking up their children. The traffic congestion alone causes inconvenience to other drivers and can contribute to "road rage." In addition to affecting school bus drivers and other commuters, school traffic congestion is a source of problems for pedestrian students, school staff and residents in and around schools. Poor motorist behavior is due to parent drivers ignoring or disobeying traffic controls. Speeding, reckless driving and prohibited stopping/parking are other common errors associated with this practice.


What are the most common errors do you see [did your survey results show] parents/caregivers making when they drop off their kids at school?
Gail Robertson:
Our InsuranceHunter.ca School Zone Safety Survey revealed 80 per cent of respondents witnessed drivers violating traffic laws in school zones. And more than one in te said either students, parents or caregivers were hit or almost hit by a vehicle on or near school property during school hours.
Some of the law-breaking offenses – that put our children in great jeopardy- included:
– Driving faster than the speed limit
– Talking or texting on cell phones in a school zone
– Not stopping at a cross-walk
– Not stopping for a crossing guard
– Running red lights in a school zone.
All of these driver behaviours are causing problems but there are solutions if we as parents work together.
Linda Rothman:
To my knowledge, each school incorporates traffic safety training into their programs on an individual basis. What is important to note, is that research has shown that although pedestrian safety education can change children's road crossing behavior, the results are inconsistent, and there is no reliable evidence showing that this ultimately prevents injuries. Any educational program should incorporate "real world" practice, and these programs should also be accompanied with changes to the physical environment which have consistently been found to be effective in reducing pedestrian injury. Changes to the physical environment include things such as the installation of traffic calming measures, traffic signals and sidewalks and pedestrian barriers.
Police Constable Hugh G. Smith:
The best way to prevent school traffic congestion is to "design it out" during the school site-planning stage. Unfortunately for police, we are not the biggest stakeholders in solving traffic congestion problems, but we are often the first to be called when traffic congestion develops around schools.
As police, we are in a unique position to serve as mediator between groups. Groups such as PTAs can conduct surveys of their members to better understand the nature of their problems. Officers are at times, assigned temporarily to problem school areas to raise awareness and educate the driving public. Divisional CPLC (Community Police Liaison Committee) meetings are held to also address these problems and give a venue for affected stakeholders to discuss their situations and possible solutions.
The Safety School Patrollers program (CAA), which consist of approximately 2200 youths, is overseen and coordinated by the Toronto Police Service and is available to most schools to assist students around pick-up/drop off areas.
What changes could schools implement to make pick-ups and drop-offs safer for kids?
Gail Robertson:
Schools could take an active role in ensuring our school safety zones are improved with a few simple things. Most schools have websites, newsletters and the ability to send notes home with each child. A simple note asking parents to be aware of the safety zone and asking them to follow basic rules of the road. Parents could also ask their school principal to use the stats from our InsuranceHunter.ca School Safety Zone survey and write a letter asking parents to do their part.
Along with following the rules of the road they could ask them to consider carpooling, walking to school and even setting up a buddy system to allow kids to walk together.
Schools could also consider add the safety message into school curriculum around healthy living and encourage all our children to be junior road safety ambassadors!
Linda Rothman:
Again, we can't emphasize enough the benefits of walking to school. However, if parents have to drive their children to school they must make sure to drive responsibly. That means; no double-parking, no dropping kids off on the opposite side of the road, no blocking intersections, no speeding and no talking on cell phones. These are all things we saw parents doing time and time again when we were doing site visits at elementary schools as part of our research. It is also essential that parents (both those driving and walking) listen to crossing guards and follow traffic controls. Drivers were observed to run stop signs, and there were several occasions where we even saw the crossing guards almost get hit! Many parents are in a rush in the morning and it may be helpful to plan to leave home a few minutes earlier, just so the drop off is not as stressful and there is no temptation to park unsafely. If possible, parents should park a few blocks away and walk the rest of the way to the school with their children. This will help reduce congestion around the school and also provide a good opportunity to teach children safe walking skills.
What can kids teach their parents that might make drop-offs and pick-ups easier and safer?
Gail Robertson:
Kids can teach us a lot about road safety. I know my son is the biggest anti-smoking advocate I know because of what he learned at school. If we could get School Zone Safety introduced into curriculum – or even a school assembly event – it would be a step in the right direction. Then our kids will tell us to slow down, to put our mobile devices away and to maybe even find ways for them to walk to school for both safety and healthier living.
Police Constable Hugh G. Smith:
Kids can demonstrate that they can take control for some of their own safety and be responsible in the areas around the school drop off zones. A designated remote drop-off/pick-up area where students can walk to or from school can be picked by the students where they feel comfortable and safe.
Kids can have their parents pledge to abide by the laws and drive safely as they will after they are dropped off near school or waiting to be picked up. Kids can discourage the use of cell phones in the school areas by parents as they have restricted use when they are in school as well.
If you want to tweet about these ideas, the hashtag is #schoolzonesafety. You can connect with @InsureHunter on Twitter, "Like" Insurance Hunter's Facebook page and visit InsuranceHunter.ca.
What do you think? Do you have any amazing suggestions for these issues?
Videos from the School Traffic Safety Event, hosted by Insurance Hunter:
School Zone Safety Event – part 1

School Zone Safety Event – part 2


School Zone Safety Tips