Who could be more fitting for the first mom we're introducing to you with our new series, Real Moms Who Rock (profiles of inspiring, Toronto-area moms), than a mom who rocks—literally?
Marlowe is the frontwoman of the kids' pop band Marlowe & the MiX. Her Top-40-style dance music is for kids ages three to tween and is 100% family friendly. That means mom-and-dad-friendly, too: these are songs you won't mind having on repeat in the car!
In 2013, the first Marlowe & the MiX CD, One Dancefloor, was nominated for a JUNO Award for Children's Album of the Year.
We love the empowering messages of Marlowe's songs and we think her story is inspiring for all parents who dream of following a passion while juggling the many joys and responsibilities of parenting.
Help!: Tell us a bit about what pushed you to start Marlowe & the MiX.
Marlowe: I discovered a gaping hole in the children's music category. By the time my own two boys were 4 and 6 I was struck by their comments that traditional, children's music was "too babyish" for them and yet I didn't feel the songs on Top 40 radio were family-friendly at all. I had been writing songs since I was 10 years old and had a catalogue of catchy pop songs. I decided to pass around a disc with three of my songs to a few families and they all immediately asked for more.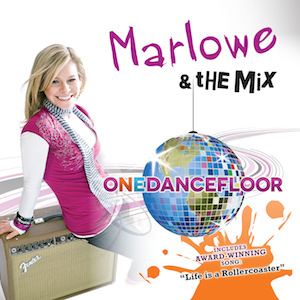 Help!: So, you're Marlowe…but who is the MiX?
Marlowe: "The MiX" is my backup band and all of the performers I bring to each show. Each show has a different "MiX" of musicians and dancers. Some are kids, some are not. It's what makes each show unique.
Help!: How many kids do you have and what are their ages? How do they feel about your music?
Marlowe: I have two sons and they are 10 and 12 years old. As a working mom, there's been nothing more gratifying than the excitement and support my kids have given my music.
My older son is the best promoter anyone could ask for. He always tells his classmates, teachers, counsellors about my music and how it comes "after the Wiggles but before Britney" for kids. (He also sings a duet with me on One Dancefloor in the song "Lovestring", that we wrote together.)
My younger son is an amazing performer and takes the energy of my shows up a notch with his electric dancing. He also sings on One Dancefloor and keeps me informed about other talented kids who should be in The MiX.
Help!: What are some of the biggest challenges you face juggling your career with family?
Marlowe: The biggest juggling act stems from the desire to be home or at school pick-up and present for all of the special, unpredictable moments in their lives and balancing that with demands to continue to grow Marlowe & the MiX. For that reason, I am selective about out-of-town shows and for the past few years I've kept my focus very Toronto-centric.
But now that the boys are older I feel that I can start to tour farther away and meet my AllStar Fans in different cities. Last year I performed in Beijing, China and that was a blast!
Help!: What lessons have you learned as a parent given your line of work?
Marlowe: One of the most important lessons I've learned is to take pride in my daily work. When my kids see all the hard work paying off and the response I get from my AllStar Fans, they better understand the late-night practices and days spent in the studio.
I often think about how beneficial it's been for them to witness this creative process from inception to reality. All of the persistence it's taken to get Marlowe & the MiX to where it is today makes me want to sing my song, "Proud of Me"!
Help!: Where do you live in Toronto? What are some of your favourite things to do as a family in your neighbourhood?
Marlowe: We live in Eglinton West and we love being able to walk to everything in our neighbourhood. From Sunday morning bagels to school to the subway, getting there by foot is always more satisfying.
As their tastes mature, my boys enjoy trying new ethnic foods along Eglinton West. One of their favourite dishes is a Korean hot stone bowl they get at Bi Bim Bap. It has ingredients in it I never thought they would try. We also live steps from the Beltline Trail. We cherish our early evening, family walks and bike rides from Bathurst to Yonge Street, with no cars in our way.
One Dancefloor is available to purchase at indigo.ca or on iTunes.
Marlowe & the MiXwill be the headlining act at Rock Your Mind Kids! on October 19, 2014 (details to be announced). Rock Your Mind Kids! is a benefit for children's mental health. For the latest news, follow Marlowe & the MiX on Facebook or Twitter.
See the Marlowe & the MiX "Life is a Rollercoaster" video: