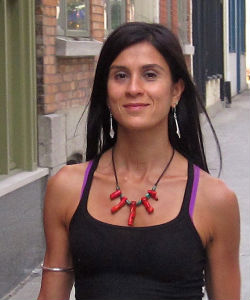 Lulu Cohen-Farnell is passionate about real food and everything food related. The founder of Real Food for Real Kids (RFRK) is on a cultural, environmental, and social mission with her Toronto-based company that provides food to kids at child-care centres, elementary schools, and camps.
Lulu was born and raised in Paris, France, and moved to Toronto in 1999. She is a strong believer in the importance of being an informed consumer and in raising children to be curious, learning eaters.
>>3 healthy weeknight family recipes from Real Food for Real Kids
RFRK has twice received the City of Toronto Green Award of Excellence and was recognized as one of the best places to work in Canada by the Great Places to Work Institute in 2011 and 2012.

Help!: Tell us a bit about Real Food for Real Kids. What led you to start the company?
Lulu: I founded Real Food for Real Kids in 2004. I was motivated by the lack of awareness of the importance of feeding young children nutritious, healthy, delicious foods. I grew up in Paris in a family where going to the market, cooking, and sharing a real-food meal made from scratch was a daily routine and a raison d'être.
Our aim is to enable and inspire healthy eating, and to help families embrace real foods and live healthier happier lives.
We cook fresh-from-scratch and prepare globally inspired tasty and nutritious dishes for over 10,000 kids daily using as much locally grown foods as practical.
By providing healthy foundations, we hope that these kids/students will build the lifelong habits of healthy eating and sustainable living.
Help!: How many kids do you have and how old are they? Do they contribute to the new recipes you develop?
Lulu: Maxime is 12 and Siena is 7. They love to eat and are very creative; they enjoy preparing and cooking all kinds of foods and they often identify foods that they think kids would like. Siena is crazy about roasted garlic cloves—she devours them! She's certain that all kids would go nuts for them like she does!
Max recently fell in love with one of my latest food creations: shiitake mushroom chips; and once finished an entire jar! The funny part is he would not eat a mushroom before. The texture bothered him—but when made into a chip, it's a different story!

Help!: What advice do you have for other moms starting a business?
Lulu: Here are my seven best pieces of advice:

Have a clear vision, mission, values, and goals and make a sound plan to achieve them.

Eat clean for good physical energy and mental clarity.

Research well.

Include down time in your calendar.

Sleep at least eight hours a night.

Get really well organized and you can almost do it all.

Never give up

.
Help!: Where do you live in Toronto? What are some of your favourite things to do as a family?
Lulu: We live downtown Toronto. We love to explore the city and the various parks. We love the Brickworks and its awesome farmer's market. We absolutely love to hang out and play volleyball on the beach in Toronto—a mini vacation in the city!
Help!: What would you do on a perfect day in Toronto?
Lulu: Weather permitting, ride our bikes to a beautiful park or head to the beach and share a delicious picnic with friends and family under the sun, go for a swim…great times!

More about Real Food for Real Kids: If you're interested in having delicious and nutritious high-quality foods served to your kids at childcare, school, or camp, talk to your child-care director, parent council, or principal about RFRK services. They'll come to you to present their programs, and they'll bring dinner, too.
Learn more at www.rfrk.com; get RFRK news and updates on Facebook and Twitter @RealFoodKitchn.