While the topic of bullying can feel black and white, the complexity can often be described as grey. Anti-bullying advocates are taking a stand this month by introducing a new colour into the mix – Pink! On April 13th, educators, parents and students across the world will be celebrating the International Day of Pink to increase bullying awareness and promote positive relationships.
Did you know that the foundation for this movement started in Canada? In 2007, two students from Nova Scotia took a stand against bullying by starting a pink t-shirt campaign after a grade-nine boy was harassed for wearing pink. Their heroism has gone viral around the world and inspired this important day.
How do we emulate and model this incredible act to create safe learning environments for kids? The team of tutors and partners from the Teachers on Call community put their heads together to come up with a few ideas. Here are eight suggestions from elementary and high-school teachers on what we (parents, caregivers, and teachers) can do to play our part to end bullying:
Give kids the opportunity to talk
While the International Day of Pink presents a spotlight on this important subject, it's only one day of the year. Bullying awareness, prevention, and intervention are important topics to discuss on an ongoing basis.
Remember to listen
While it's important to have regular conversations with kids, adults must remember to spend just as much time listening as speaking.
Read together
Books can be an important resource and tool for teaching children about the impacts of bullying. There's a wide variety of picture books, novels, and young adult literature that tackles these themes. If you want some suggestions, here's a few great books that celebrate friendship.
Tap into popular culture
Review music, movies, articles, and video clips with strong messages that connect to International Day of Pink. Dissect the themes and discuss their relevance. Ask your kids or students how they view a situation and what they would do or recommend.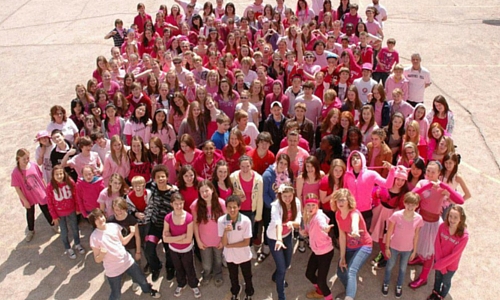 Be mindful of jokes
Encourage positive language amongst peers. Sometimes kids don't realize that their jokes and language can be hurtful to others, including their friends.
Share personal stories
Parents, family members, and teachers can share personal stories from their lives about courage, compassion, and friendship. The origin of International Day of Pink is a great starting point. Invite your kids or students to share their kindness stories with you.
Make a kindness contract
As an educational activity, adults can guide students in making a kindness contract. This works especially well in a classroom setting, although it also works at home with younger kids.
Encourage students to come up with a roadmap of rules on how to treat others. They can sign the contract and hang it on display to be viewed daily as a constant reminder.
Take educational field trips
Parents and teachers can tuck away teachable moments with fun educational field trips. For students in the GTA, the theatre is only a subway ride away. Currently, there is a great program (in place until mid-May) to see Kinky Boots with affordable student tickets and group discounts. This Broadway hit lends a spotlight to themes of diversity, acceptance, and being true to oneself.
Children have the right to reach their full potential academically and to feel welcome and safe when they go to school. These eight strategies are a starting point for International Day of Pink and all year-round behaviour. What would you add to the list?
Joanne Sallay is a Director at Teachers on Call, a personalized home tutoring service with over 30 years of experience. Teachers on Call's Ontario Certified Teachers specialize in providing one-on-one instruction in all subjects and grades including French Immersion and summer enrichment tutoring.
READ MORE LIKE THIS:
Keep informed with all our camps coverage and find the perfect camp by searching our Toronto & GTA camps directory.
Sign up for our newsletters to get parenting and family fun articles delivered to you!