Do your kids pitch in around the house? Giving kids a list of simple chores is a great way to build independence and teach responsibility. Getting kids excited about chores can be tricky, though—dusting and putting away laundry isn't exactly the most thrilling way to spend your time.
Some parents use a weekly or monthly allowance as an incentive, while others offer a range of rewards and prizes. Whatever you choose to do, these creative chore charts and trackers are an easy first step in making housework seem a little more appealing.
1. Illustrated Chore Chart for Preschoolers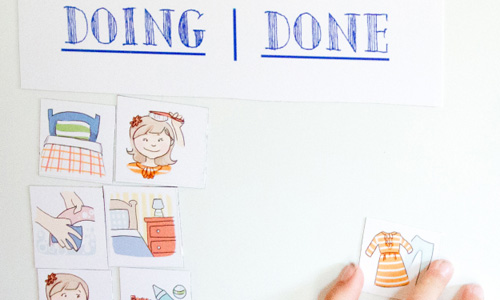 This adorable illustrated chart is a great way to introduce the idea of daily chores to your preschooler. Watch them beam with pride as they move tasks from their "to do" list to their "done!" list.
Tip: If you don't have photo paper for printing, you can print graphics on regular paper and "laminate" using clear adhesive shelf liner from the dollar store.
Visit Five Marigolds to download the printable illustrations by Audrey Schilaty.
2. Scratch and Reveal Chore Board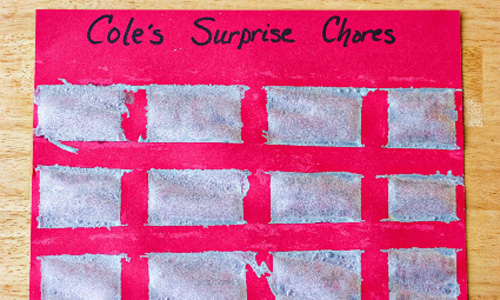 Add an element of surprise to your child's daily chores with this clever idea from No Time for Flash Cards. Kids will love scratching off the paint to uncover their next task, making boring housework feel more like a game.
Head over to No Time for Flash Cards for the scratch paint tutorial.
3. Wheel of Chores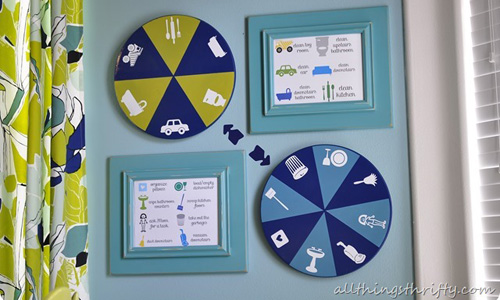 If you're feeling really crafty, consider this super-fun project from All Things Thrifty. We love Brooke's idea of turning two inexpensive Lazy Susans into spinning chore charts that do double duty as eye-catching wall décor.
Check out the step-by-step instructions on All Things Thrifty.
4. Chore Door Hanger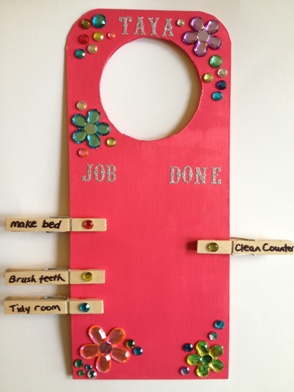 Let kids get in on the fun of designing their chore tracker with this crafty idea from Hysterically Ever After. Cut door hangers out of foam or heavy card stock, and then let your wee ones decorate with gems, stickers, glitter—whatever they'd like!
5. Super-Simple Chore Chart

Sometimes the simplest projects are the best ones! If you're just easing your little one into daily responsibilities, this close-the-flap chore chart from My Name is Snickerdoodle is a great option. As crafty mama Amy points out, there are no pieces to go missing or boxes to be checked off, making it perfect for preschoolers.
6. Mason Jar Chore Chart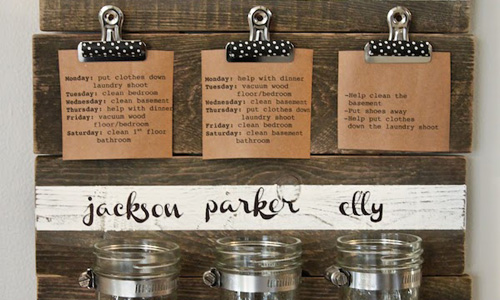 If a Pinterest-worthy chore chart is what you're after, look no further than this awesome idea from The Winthrop Chronicles. With rustic wood pieces, Mason jars and pebbles for tracking, this chore chart gets major style points!
The best part? It only looks complicated. Just follow the tutorial, and you'll have one of your own in no time.
7. Framed Chore Slider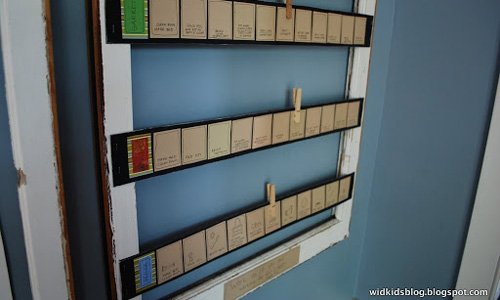 This chore chart is actually part of a bigger "command centre" project from The Wid Kids. Both pretty and functional, this chart is hung low on the wall at child level so that little ones can move the clothespin along the slider as chores are completed throughout the day.
8. Work for Hire Board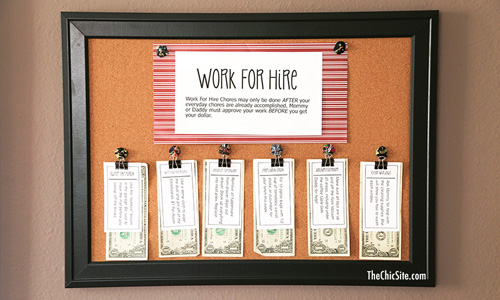 Okay, we'll admit: at first glance this chore board from The Chic works much better if you're dealing with U.S. bills—because who wants to dole out Lauriers every time your child picks up their toys?!
Our tip: be creative! Instead of dollar bills, opt for Monopoly money that can be traded for the real deal, or slips with special privileges like staying up an extra 10 minutes past bedtime. Use your imagination!
9. Washi Tape Chores in a Jar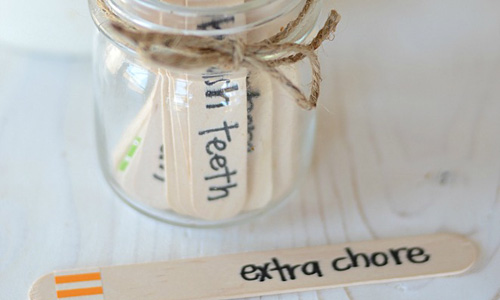 Want a chore tracker that's super low-tech? You can't go wrong with this cheap-and-cheerful idea from Simply Kierste! All you need is a pack of craft sticks and a few rolls of washi tape to make a jar full of kid-friendly jobs.
10. Cookie Sheet Chore Chart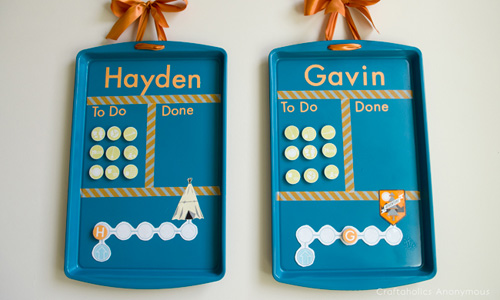 These cookie sheet chore charts combine three of our favourite DIY qualities: they're practical, they're pretty, and they don't cost a fortune to make! With a basic cookie sheet as the base, you can create an eye-catching chore chart that your kiddos will love, and you'll be happy to hang in your kitchen.
Head over to Craftaholics Anonymous for the tutorial.
11. Chorecraft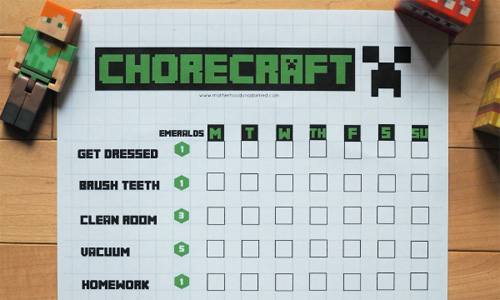 If your kids would rather be playing Minecraft than doing dishes, this is the chore chart for you!
Thanks to this brilliant idea by Motherhood Unadorned, you can enjoy a clean house AND happy kids. Little gamers will collect "emeralds" for each chore they complete, and can save up their emeralds to trade for prizes like ice cream or a night at the movies. We love it!
12. Sticks and Stickers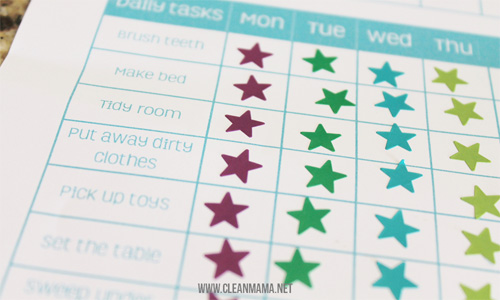 This colourful chore tracking idea from Clean Mama couldn't be easier. Chores are written on painted craft sticks, and tracked using stickers of your choice. It's simple, and it works!
13. A Pretty Ikea Chore Chart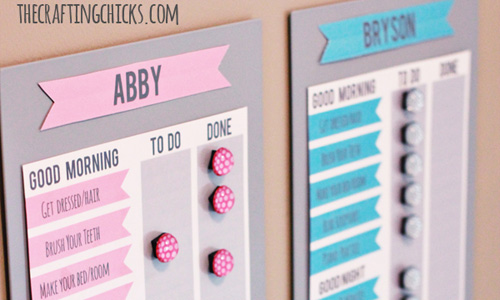 Who doesn't love a good Ikea project? Next time you're shopping for meatballs, pick up a few inexpensive supplies and put together this pretty chore chart. Chores are split into morning and evening tasks, and pretty DIY glass buttons keep track of which chores have been completed.
Visit The Crafting Chicks to find free printables and step-by-step instructions.
READ MORE LIKE THIS:
Sign up for our newsletters to get parenting and family fun articles delivered to you!