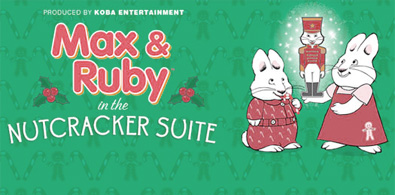 Something about this time of year makes us long for a cozy evening out, enjoying the most festive of ballets: The Nutcracker. Of course with wee ones in tow we might not make it through the first ten minutes without a few bathroom visits, a boredom complaint and a hunger pang or two.
But it's tradition (and somehow our mom took us), so we simply had to find a way around those boredom complaints. Instead of taking a babe to a formal production of The Nutcracker ballet this year, we decided to ease them into the tradition by taking them to see Max and Ruby's enchanting — and slightly shorter — version instead.
Set to the timeless music of Tchaikovsky as well as a few original songs, this 90-minute event brings the holiday classic to the wee-est of fans. Grandma tells Max and Ruby the story of the Nutcracker, and so vivid is her storytelling that the characters in the ballet come to life in front of them. Whether it was the sweets, or their lively imaginations, Max and Ruby head off to bed with visions of sugarplums dancing in their heads. It's a production that the whole family can enjoy this holiday season.
We know the kids will love it and there will be no boredom complaints. Of course we might pack some snacks in our bag, just in case of hunger pangs.
Max & Ruby in The Nutcracker Suite
A Koba Entertainment Production
Sony Centre, Toronto
December 15th, 1pm and 4pm
Want to take your kids to see Max and Ruby in The Nutcracker Suite on December 15 in Toronto? We've got a family pack of four tickets to give away! Enter to win them now!
Did That Help!? You Might Like These: