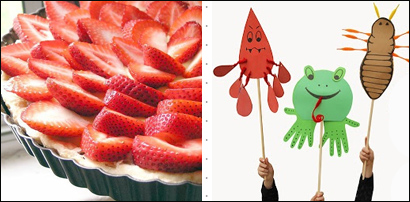 Do you love Easter? Do your kids love it? Are they already looking forward to searching for eggs that the big bunny leaves for them? Are you planning on an Easter theme at home for dinner or dessert? What about Passover? Are you hosting a Seder this year? Do you want to do Passover crafts with your kids?
We love these two Spring celebrations, and it was no difficult task for us to gather up our faveEaster and Passover Inspirations from Pinterest and share them with you.
Easter Crafts
Easter is a great time of year to get crafty. Spring colours, cuddly bunnies and eggs galore make for fun DIY projects with the kidlets.
We love the idea for dip dying eggs in Pantone colours and making a bunch of crochet Easter chicks. How beautiful do the ombre eggs look (ombre is even good on eggs, surprisingly!) and the DIY egg-shaped button craft is inspiring for Easter and pretty much any holiday (think Christmas trees, hearts, maple leaves, pumpkins, etc). If we were having an Easter party at school (or even a small one at home), we might get the kids to make the adorable fuzzy chick, the handprint whiskered bunny, or even the cotton ball sheep to keep them busy all afternoon (while eating Easter treats, of course!). For those of us who will be hiding eggs for the kids to search out, the bunny from a recycled tin can would be a great container for them to put their eggs in during the hunt.
Easter Treats
Easter treats can be more than just chocolate eggs or jelly beans, although those are great options for hiding and seeking. We came across loads of Easter-themed recipes like these kitschy and adorable Peep S'Mores (also a great gift idea!). Upon slightly deeper delving, we found things like Easter Marshmallow Bark, a very Spring-ish Strawberry tart, some beautiful Easter egg Nest Cupcakes and these truly decadent Cadbury Easter Egg Cupcakes.
If it's savoury Easter treats you are hankering for, don't miss making these adorable Easter Bunny Scones, a perfectly hued Noodle Salad and even some very pretty Pastel-Dyed Easter Devilled Eggs. We also found recipes for a Bunny-Shaped Veggie Tray, Bunny Dinner Rolls, an Easter Bunny Salad, and traditional Easter Bread (and no bunnies were harmed in the making of any of these).
Passover Crafts
When it comes to Passover, kids' crafts may not be the first things that spring to mind. We decided to stretch our imaginations a wee bit. We have a few really fun, simple crafts to keep kids busy — and happy! — at the Seder table this year. Some cute origami frogs won't go amiss, hopping around the table and a few mismatched origami pyrimids would make a great centrepiece. Keep the kidlets busy before dinner making Passover greeting cards for the other guests and maybe even organize a puppet show; each child can make one of these (can we call them cute?) Seven Plagues puppets! Or, it might be fun to make a Matzah House (like a gingerbread house) and serve it with dessert after the Seder meal.
Passover/Seder Foods
The Seder table is traditionally set with the finest place settings and silverware, and family members come to the table dressed in their holiday clothes. We found some great recipes to invigorate and modernize this family meal, like Matzah-Crusted Chicken, Spinach and Matzah Pie, Matzah Blintzes With Asparagus And Dill, and Matzoh Brei With Roasted Peppers, Olives And Parsley. We also found some truly delicious-looking dessert recipes with which we would love to finish off the Passover meal. Why not whip up an Apple Cake, some S'mores, a Gâteau au Chocolat, or a truly decadent Matzah Ice Cream Cake to impress your guests?
Do you have a favourite Easter or Passover craft or party inspiration that you found on Pinterest or elsewhere? Share it with us! And don't forget to visit our Pinterest page to see what we've pinned in our Easter and Passover Inspiration board for other ideas for these two holidays.
Did That Help!? You Might Like These: