© karelnoppe/Fotolia
Dads just don't get the same amount of homemade crafts on Father's Day that moms do on Mother's Day. Maybe it's because the weather is just so much better in June and everyone is spending more time outdoors.
But that's no reason for fathers, grandfathers, and uncles to miss out on a handmade gift from the kids. These crafts are quick and easy to make. They're affordable, too, requiring supplies you can get from a dollar store or hardware store, if you don't already have them around the house.
So now there's no excuse to make something simple, fun and handmade for Dad to celebrate Father's Day!
>>>Want more ideas? Adapt one of these for Dad: 10 Cute Crafts for Mother's Day.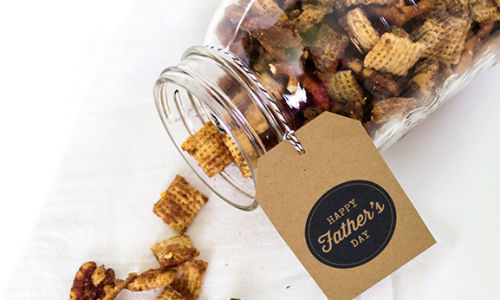 Photo: Sarah Hearts

Big Jar of Snack Mix
For the dad who is impossible to buy for, surprise him with a big jar of his favourite snacks. Let the kids custom-mix a blend for him using a selection of his favourite snacks. Make the jar a keepsake he can use for storage by adding decorating a cute homemade label (or download ready-made labels from SarahHearts.com, as pictured above). Kids ages 3 and up can do this craft.
What you need:
glass jar with lid
dad's favourite non-perishable snacks
label
How to make it:
Let the kids pour snacks into a large mixing bowl, then scoop it into the glass jar. Or, free-pour each snack, one at a time, for a layered effect. Finish it off with a label that says "The Daddy Mix," or something else that's sweet and simple.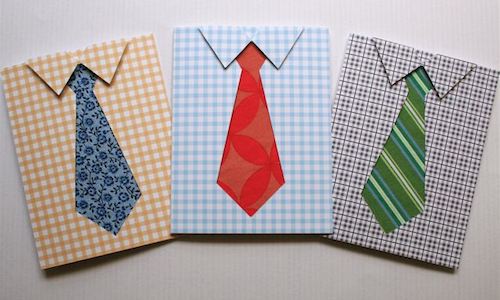 Photo: mmmcrafts 
Necktie-Shaped Card
Ties are the unofficial sartorial mascot of Father's Day. If Dad has enough of these in his closet, make him a cute paper one. Kids of any age can help with this card. The littlest of tots can add stickers.
What you need:
construction paper
glue
scissors
crayons
stickers
How to make it:
Fold one piece of construction paper in half for the card. Cut out another piece of construction paper in the shape of a tie and paste in on. Then decorate the tie with stickers, or draw stripes or flowers or polka dots on it. Last but not least, write a Father's Day message inside the card.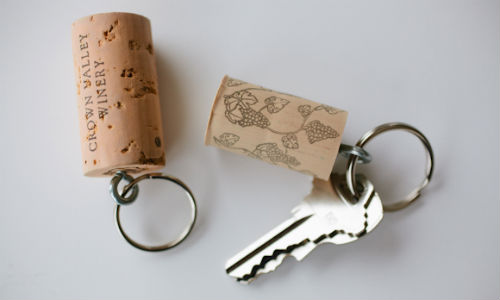 Photo: Marry This!
Wine Cork Keychain
This is a fun keychain for light-duty use. School-age kids will enjoy the challenge of using their fine motor skills to screw the hardware into the cork.
What you need:
key ring
wine cork
screw eye (a small hardware screw with a circle or "eye" at the end of it)
How to make it:
It's super easy to make this keychain. Just save the wine cork from your next nice dinner. Then add a screw eye to a key ring. Twist the key ring into the end of the cork. Voila!

photo: Kandace Meinen/Pinterest
Questionnaire About Daddy
It's hilarious to read the zany answers kids rattle off about their dads. Kids of all ages can take part (and each fill out their own questionnaires) though you might have to scribe for the youngest ones.
What you need:
paper
printer
crayons
How to make it:
You can either come up with your own fill-in-the-blank questions for the kids to fill in about Daddy, along the lines of "Daddy's name is ______." Or you can find a printable from Pinterest like this one (pictured). Be sure to ask questions guaranteed to get a funny response, such as "Daddy weighs as much as a ______." And "Mommy always tells Daddy to _____."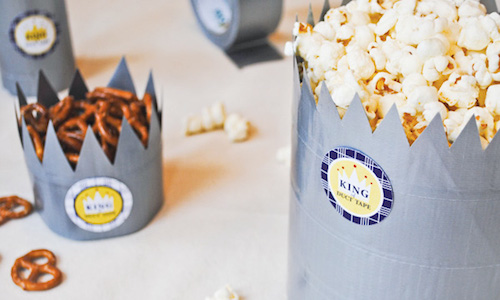 photo: Hostess with the Mostess
Duct-Tape Crowns
This "crowning" idea comes from the Hostess with the Mostess blog (pictured). What's clever about it is that this craft looks like a bowl (and a lot of duct tape), it's actually a wrapper around a bowl and thus doesn't use so much of the sticky stuff. This is a great crafts for older kids and teens, whereas little kids can help with snipping the crown.
What you need:
bowl or cup
duct tape
scissors
How to make it:
Create a double-sided strip of duct tape (follow Hostess with the Mostess's DIY tutorial for tips on how to manage the sticky duct tape) that will cover your bowl and snip the top into points. Then trim off any excess and use a small piece of duct tape to attach the wrapper to the bowl or cup.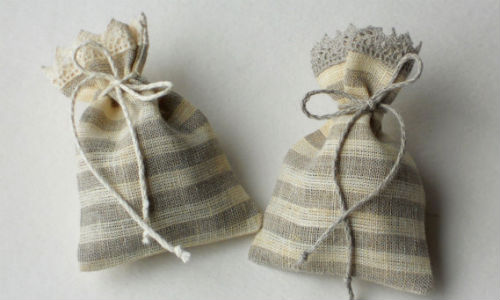 photo: CikuCaku/Etsy
Car or Closet Air Freshener
Dad probably has a space somewhere that could use a little freshening fragrance, like the car or the closet. Little sachets are easy to find at the dollar store or a craft-supply store (seek out masculine burlap or linen versions), and you can make homemade potpourri from spices in your pantry and pine trees around your home.
What you need:
small fabric sachet pouches with drawstrings, (found in the craft section or the wedding-favours section of the dollar store)
cinnamon sticks
cloves
pine needles
rosemary
How to make it:
Stuff a fabric pouch with any combination of broken-up cinnamon sticks, cloves, pine needles and rosemary. There is no perfect formula, so if you wanted to do an all-pine needles or all cinnamon sticks air freshener, that's just as nice. Pull the drawstring tight, and you're all done.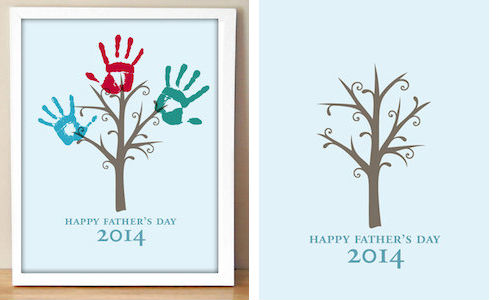 photo: Prints of Beauty/Etsy
Handprint Poster
This is a craft even babies can take part in. Make handprints with non-toxic paint on the top of a small piece of bristle board for dad and write a "handy" pun on the poster. To take it up a notch, frame it with an inexpensive frame. (Just be sure to measure and cut the board to the frame before doing the print!) Or for less than $4, download this blank tree from Etsy and just apply your kids' handprints.
What you need:
non-toxic skin-safe paint
bristle board
markers
stickers
How to make it:
Dip hands in a shallow plate of paint. Then print them on the top of a poster. (Tip: Fill the sink with bubble water before you paint kids' hands so they can go straight to the bowl to clean them off.) When the handprints dry, you can write "Hands down, you're the best dad! with markers, and add stickers or drawings to decorate the poster.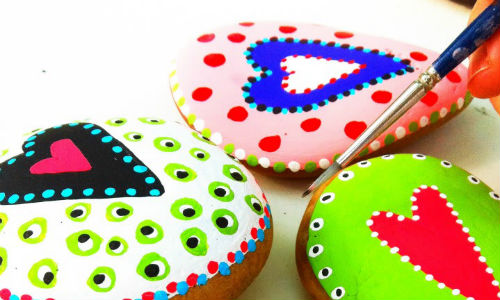 photo: Blooming on Bainbridge
Painted Rock Paperweights
Preschoolers and toddlers love gathering rocks for crafts. Pick smooth, oval rocks for this easy present.
What you need:
One or two palm-sized smooth rocks
acrylic or tempera paint (tempera paint washes off, acrylic does not)
fine-tipped paintbrush
How to make it:
First, decide what you're going to write on the rocks. You could do rocks for dad's initials, or a word on each rock, or even drawings; your imagination is the limit. Then wash rocks with soap and water and dry them, they need to be dry and free of dirt for the paint to stick. Then, paint away!
Helen Racanelli is a Help! We've Got Kids contributing writer. You can follow Helen on Twitter @helenrac.
READ MORE LIKE THIS:
Looking for kid-made gifts for Dad? Check out our Father's Day Gift Guide from the kids.
Or browse through our ultimate Father's Day gift guide: 25 cool gifts for Dad.
The best things for Dad may be free: plan one of these 12 fun, free things to do on Father's Day this year.
Sign up for our newsletters to get the latest articles delivered to you!