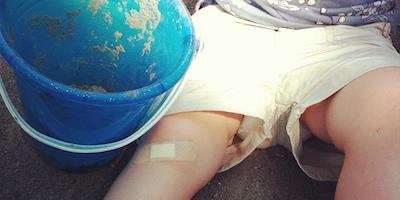 Photo: Mike Beltzner/Flickr CC
sponsored content
Spring is here and summer is around the corner, which means that your family is getting back outside. With that comes…bumps and bruises. Children notoriously have few inhibitions (or none at all), and while most minor bruises and scrapes require nothing more than wiping away a few tears, sometimes you need to bring in the big "guns" from your first-aid kit.
Here are five things you need to to treat kids' minor wounds this summer:
1. Peri bottle. The first step for any wound that breaks the skin is to clean it. Mild kid-friendly soap and water usually does the trick. You can try a saline solution too. Peri bottles are little squeeze bottles that are great for directing a stream of water at an awkwardly placed cut. They are cheap (usually about $1) but can be a difficult little item to find. Some pharmacies may have them or medical supply stores.
2. Polysporin Kids or other triple-antibiotic ointment. For minor wounds, antibiotic creams probably aren't necessary, but this non-stinging wound cleanser is nice to have on hand for more serious injuries (before heading to the doctor's office). Apply with a clean cotton swab and use a very small amount—some people may have reactions to it.
3. Bandages of all sizes. Wounds need to be covered. Forget the old wive's tale of leaving it open to the air to heal—that's a myth. Injured skin needs moisture to heal and bandages keep the area moist and clean. It's best to have lots of different sizes of bandages, including butterfly bandages and sterile pads with tape.
4. Tweezers. Cleaning the wound may require removing dirt and grit.
5. RUB A535 Natural Source Arnica Gel-Cream or Spray. We know what you're thinking. A535? For kids? Well…sort of. This product is different from most of the RUB A535 line of pain-relief products (most of which are not for kids). It's made with 100% naturally sourced Arnica montana, recommended for muscle soreness and inflammation. It's fragrance-free and appropriate for pain relief for children age two and older.
What NOT to Include in Your First-Aid Kit
Hydrogen peroxide or rubbing alcohol. These can irritate the skin and do more harm than good.
Diaper wipes. We know you wouldn't actually stock these as a first-aid supply, but in a pinch you may be tempted to clean out a wound with them. Don't. The fragrances and chemicals can irritate the injured skin. Use tapwater instead.
Sponsored content is written by or on behalf of a sponsor. Help We've Got Kids only accepts sponsored content from companies whose products and services we feel are valuable and/or interesting to our readers.