This post is sponsored, but the opinions expressed are our own. Help! We've Got Kids is a free resource, supported by advertising from relevant sponsors.
Each year, a special family tradition takes place at Toronto's Elgin Theatre in the form of a "fractured fairy tale" from Ross Petty Productions, presented in British pantomime style, with songs, slapstick comedy, and dancing.
The tried-and-true formula, since 1996, is this: take a traditional fairy tale like Peter Pan, Beauty and the Beast, or Cinderella, then mix it up with contemporary pop music, outrageous characters and costumes, pratfalls, over-the-top humour, and several inside jokes for the Toronto home crowd. The result: 23 years of hit crowd-pleasers that are a ton of fun for the whole family.
This year's selection is an anything-but-traditional version of The Wizard of Oz— "A Toto-ly Twisted Family Musical"—featuring Broadway actress Camille Eanga Selenge (The Book of Mormon) as Dorothy. After a rare Toronto twister transplants Dorothy to Oz from her home on Ossington Avenue, she and her dog Toto meet some familiar characters—the Scarecrow, Tin Man, and Cowardly Lion—and the less familiar Sugarbum (Michael de Rose), as the Good Witch of the North, in the comic lead.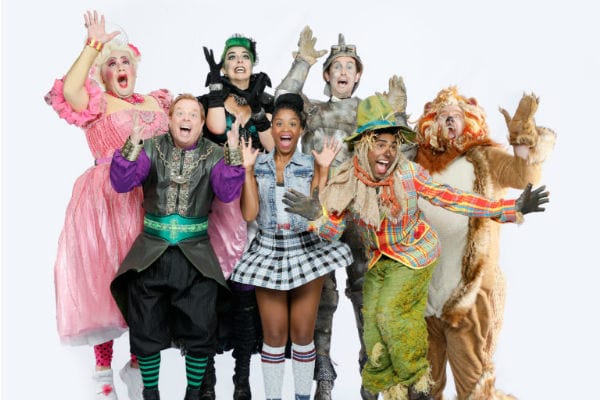 Like every Ross Petty show, The Wizard of Oz is PG in nature and appropriate for any child who can handle a two-hour stage show—though sitting still and quietly are absolutely not prerequisites, since the show includes popular contemporary songs kids and adults are welcome to sing along to, animated dance numbers, laugh-out-loud silliness (as well as some smarter jokes aimed at adults), and plenty of audience participation. When the villainous Wicked Witch of the West takes the stage, for example, everyone is encouraged to boo and hiss loudly!
If you and your kids love the MGM classic…this probably won't be anything like it, but kids who love the original will be able to easily follow the story. And they will no doubt be enthralled by this lively production.
Ross Petty's The Wizard of Oz: A Toto-ly Twisted Family Musical runs November 30–January 5 at the Elgin Theatre (189 Yonge St., Toronto), with matinee and evening performances. Tickets are $27–$99 and can be purchased online or via phone at 855-599-9090.
---
Stay tuned for our contest to win a family pass of four tickets to see Ross Petty's The Wizard of Oz. Contest opens November 30, 2018.