As sad as it is to think about the end of summer, sooner or later we have to turn our attention to getting ready for another school year.
Whether your kids are raring to go or need a little extra encouragement, these seven fun ideas will have the whole family feeling excited about the first day of school.
1. Back-to-School Countdown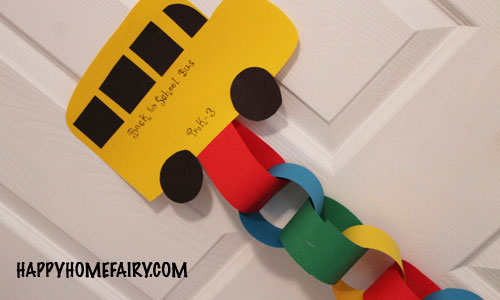 Help your little one mentally prepare for the first day of school with a fun countdown, like this School Bus Paper Chain idea from Happy Home Fairy. Each day, your wee one can remove a link from the chain to give them a visual reminder of how close they are to the first day of school.
For another fun spin on this idea, try an advent calendar-style countdown. Tuck a few school supplies, accessories, and treats into numbered brown paper bags for your kiddos to open each day.
>>Find more back-to-school countdown ideas.
2. Back-to-School Family Dinner
How sweet is this idea from Modern Renaissance for a back-to-school dinner party? We love the school-themed touches on the table, from the school supplies centrepiece, to the lined paper tablecloth. A menu of your child's favourite foods makes the dinner seem extra-special.
It's a great way to build excitement on the night before school, or to celebrate the end of the first day in class.
3. School Year's Eve Party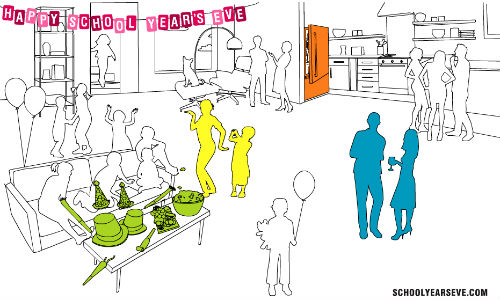 Back in 2009, Cookie magazine and the stateside National PTA teamed up to make School Year's Eve a new national celebration to get kids and parents excited about school. Sadly, Cookie is no longer published, but the School Year's Eve website lives on, complete with printable invitations, decorations, games, and party planning ideas.
4. Back-to-School Fairy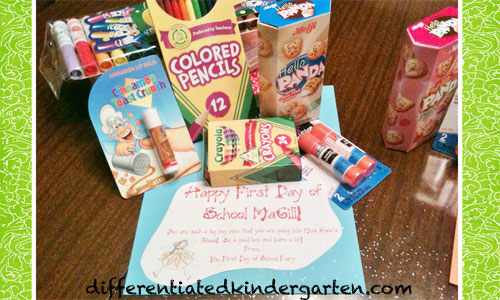 It turns out that the Tooth Fairy isn't the only gift-giving sprite in town! This year, introduce your kids to the magic of the Back-to-School Fairy, who leaves presents in kids' backpacks while they're sleeping.
We like this idea because it adds a little extra whimsy to the first day of school (and may help get kids out of bed on that hectic first morning without a struggle!). For some Back-to-School Fairy ideas, check out this post by Marsha over at A Differentiated Kindergarten.
Another lovely back-to-school surprise is a schultüte, which is a German tradition that involves giving your child a large cone filled with school supplies and other goodies. Find a step-by-step guide for making a schultüte over at Alpha Mom.
5. Creative First-Day-of-School Photos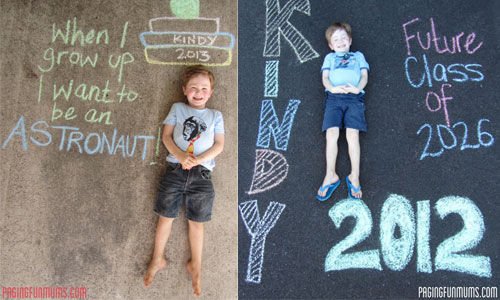 The first day of school wouldn't be complete without photos! There are so many fun and creative ways to capture your wee one's first day of school—including chalkboard profiles, printable signs, and crafty DIY props—that it's hard to know which one to choose.
We're big fans of this sidewalk chalk idea from Paging Fun Mums! and this DIY photo frame from That Mom Blog. Another sweet idea comes from Make It Your Own, which involves pasting your child's first-day pic onto a printable drawing sheet so that they can sketch a self-portrait beside their photo. Cute!
Bonus: For a handy checklist of must-take back-to-school photos, visit Simple As That.
6. First-Day-of-School Interview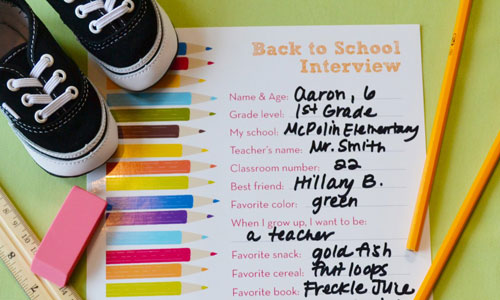 Along with the classic first-day-of-school photo, having your child answer a few simple first-day questions is a great way to document just how much they change from year to year. Have them write their name, and then tell you about their favourite subject, their best friend, and what they want to be when they grow up.
Need some inspiration? Check out this printable back-to-school interview template from Petite Lemon.
7. Back-to-School Coffee Date for Parents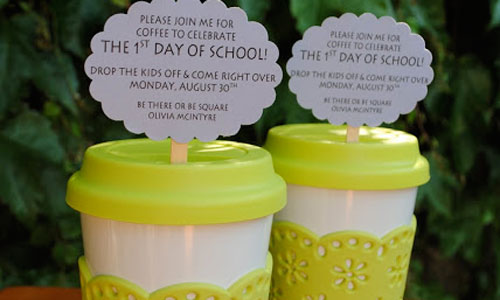 The first day of school is exciting for kids, but if we're being honest, it can also be a nice breather for parents after a very busy summer. That's why we're suggesting a post-drop-off celebration to get together with other parents and raise a mug to the new school year.
This idea from Jacolyn Murphy is perfect for a busy first-day-of-school get-together: Pick up a few inexpensive travel mugs that double as party invites, then have everyone lug their mug to your place for coffee and a snack. It's easy-breezy, and is sure to be appreciated!
READ MORE LIKE THIS:
Our back-to-school checklist for parents is everything you need to prepare for the new school year, in one place!
Count down the days before school starts—and make it fun—with these back-to-school countdown ideas.
Do you know what your child is expected to know before starting school? Here are 24 things your child should know before starting kindergarten.
Sign up for our newsletters to get parenting and family fun articles delivered to you!