When the school year comes to a close, you're probably thinking of creative ways to thank your child's teacher for helping them to learn and grow this year. Well, we have you covered!
We've rounded up some cute and easy ideas to thank your child's teacher for their hard work and their impact on your child's life. Most are very budget-friendly, which is a bonus if you have multiple children in school and are giving to more than one teacher.
Here are our picks for the best end-of-year gifts for teachers.
1. A Treat From Your "Smart Cookie"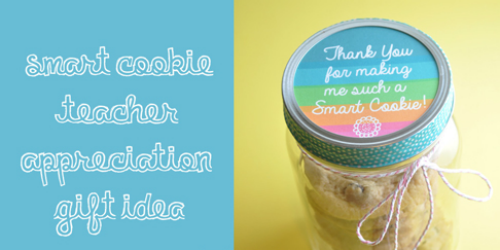 What better way to say thanks than with a batch of homemade cookies? Break out your favourite classic chocolate chip cookie recipe and head over to Club Chica Circle to download a sweet "smart cookie" printable.
Little ones will be happy to help you mix cookie batter and can add custom touches to the Mason jar with stickers, twine and washi tape.
2. A Painted Flowerpot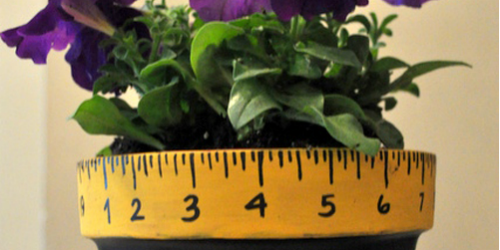 This adorable hand-painted chalkboard flowerpot from Our Family Journey actually says "thank you for helping me grow" which is the perfect sentiment for a teacher gift. Bonus marks if you can find out the teacher's favourite flower beforehand!
3. A Manicure in a Mason Jar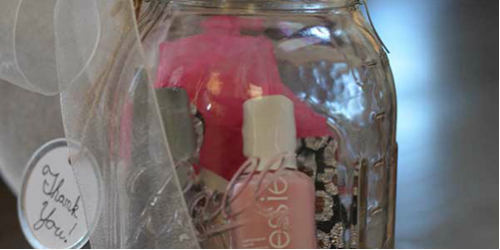 Who wouldn't love a little pampering after a long year of paper cuts, chalky hands and tons of antibacterial gel? This cute idea from Tidbits and Twine involves filling a Mason jar with everything your child's teacher needs for a well-deserved manicure.
If you have a male teacher on your list who isn't into manicures, turn the jar into a DIY shaving kit instead.
4. The Gift of Caffeine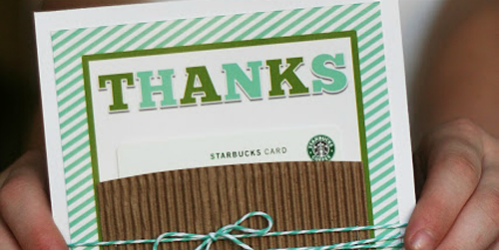 For the latte-loving teacher, this free printable from Eighteen 25 is a no-brainer. A few personal touches, such as stickers or a nice written message, makes this gift card something really special.
5. A Beach Bag Full of Goodies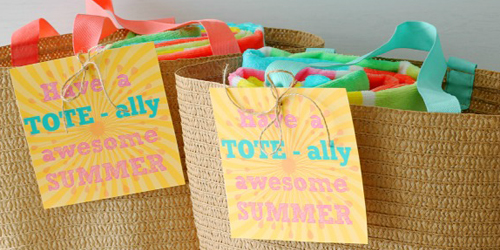 Whether they're heading to the beach or lounging by a pool, you can bet your child's teacher will love this tote bag idea from Foodtastic Mom.
Filled with essential beach items like towels, sunscreen, iced tea packs and magazines, this gift has everything a teacher needs for a little R&R.
6. The Gift of Smooth Lips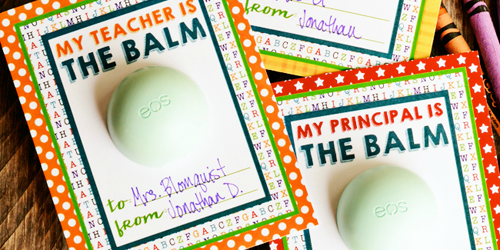 If you're looking for a little something to say thanks to other important people in your child's life—principals, classroom assistants, and bus drivers, to name a few—this lip balm gift idea from I Should Be Mopping the Floor is just the thing.
And really, who doesn't love a good pun?
7. Must-Have School Supplies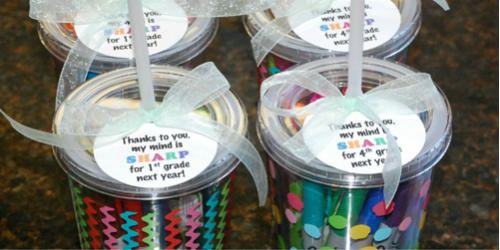 For another twist on the gift card idea, try this suggestion from Slice of Heaven.
Fill a reusable plastic cup with some colourful Sharpie markers and a coffee card, then attach a clever tag that says "thanks for keeping my mind sharp this year!" Adorable and practical—we love it.
8. A Selection of Teas to Sip All Summer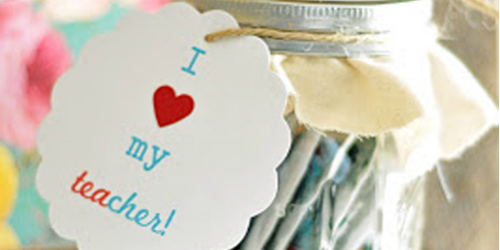 If your child's teacher is more of a tea drinker than a java junkie, try this lovely gift idea from PB&J Stories.
You can opt for tea bags or fill the jar with a yummy loose-leaf tea that can be enjoyed all summer long. Older kids can add a personal touch by making the punny tags themselves.
9. A Homemade Sweet Treat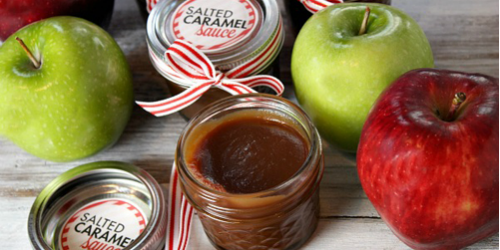 What gift could be more appropriate for a teacher than crisp, delicious apples? Apples with a side of this amazing salted caramel sauce from Recipe Girl, that's what!
Whip up a batch of this sauce and package with a few apples for an indulgent treat that's sure to be a huge hit. Just don't forget to make some extra sauce for yourself!
10. Some Yummy-Smelling Soaps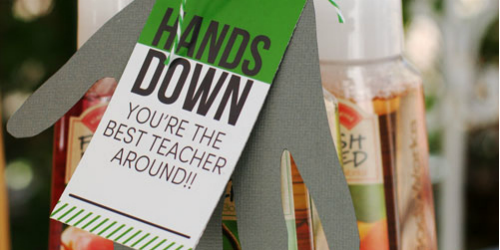 Teachers—especially those working with the Kindergarten set—wash their hands approximately 10 billion times a day (give or take), so why not help replenish their stash of yummy-smelling soaps?
This idea from Eighteen 25 is super easy while still being totally thoughtful. A cutout of your child's handprint is the perfect finishing touch.
11. A Heartfelt Thank You Note
It's not the size of the gift, but the act of saying thank you that matters most. Make sure that your child takes the time to write out a little note for their teacher to show their appreciation; highlighting a few things they're particularly grateful for this year.
Smaller kids can decorate a note from a parent, or draw a special picture to be included in a card. Sometimes gratitude is the best gift of all!
READ MORE LIKE THIS:
Still not sure what to give your child's teacher? Check out these other 9 gift ideas for teachers and you'll be sure to find something their teacher will love.
When school is out for summer, reading is so often overlooked and some students fall behind in reading comprehension. Find out how to keep kids reading during summer vacaton so they can stay ahead of the game.
Do you want your kids stuck on the couch or out doing things this summer? Try these 14 things to do with your kids this summer so they can experience the season to its fullest potential.
Sign up for our newsletters to get parenting and family fun articles delivered to you!