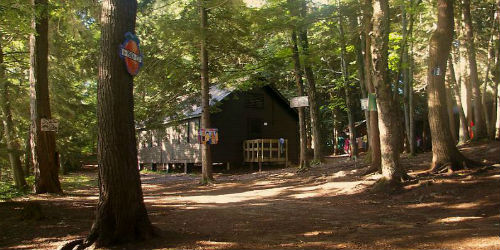 photo: Camp Tamarack
How can you know when your child is ready for overnight camp? Or when you are?
Rick Howard, director of Camp Tamarack in Muskoka, Ontario, provides some pointers for parents on deciding when kids are ready for sleepover camp and answers some of the most common questions first-time campers and first-time parents ask.
1. How do you know if/when your child is ready for overnight camp?
Knowing when a child is ready for overnight camp is a very individualized decision and assessment as every child is different.
It is interesting, however, that historically parents sent their children to overnight camp at a much earlier age than they do now. I think parents are more protective and concerned about ensuring the time is right even though camps today provide many more "introductory" options such as day, weekend and short session opportunities.
When I speak to parents about assessing the readiness of their child, we discuss things like social skills, confidence, and independence. Have they successfully had sleepovers at friends' homes, have they expressed interest and excitement about camp?
What parents need to know is that camps are equipped to deal with a bit of homesickness and that sometimes the parents are more worried for the children than the children are themselves.
2. How do you prepare your child for their first overnight experience?
Preparing for a child's first overnight camp experience is an art and is critical to the child's success. We always view our relationship with parents as being like a partnership. We are all going to do much better in terms of creating a successful experience for the child if we are on the same page.
So, positively hyping up the camp's activities, history, campers and staff and so much more is critical. Watching the camp video together is helpful. Some camps, such as ours, are happy to put a new family in touch with another camp family to set up a play date, arrange for kids to sit on the bus together, etc.
Camp shopping for clothing, snacks, stationery, etcetera, can also set a great foundation of excitement and preparation for camp.
3. What is the camper/staff ratio for younger kids?
The camper to staff ratio for younger kids at Camp Tamarack is very low. Generally, we have a maximum of 4:1 for campers to counsellors. That does not account for our specialty staff who coach, teach activities, many of whom are assigned to live with and help the camper cabins in their off-time. Overall, our ratio of campers to staff is only a bit more than 2:1.
4. What type of contact should an overnight camp offer to first-time parents and why?
We have a firm policy that one of our senior leadership members will contact a parent within 48 to 72 hours of the child's arrival at camp to put them at ease that the child is doing well, settling in, etc.
We are also honest in conveying if there are challenges that we are working on, so that we can seek the parent's advice as to how to make the child more comfortable. Informally, some parents ask if they can check in from time to time and we are fine to give them an update in such situations
5. Is there anything else parents should consider when choosing an overnight camp for their child?
There are many factors to consider when choosing an overnight camp, including:
type of program: Some camps are specifically oriented to a certain activity (i.e. horseback riding), gender, religion, etc.
length of sessions: As mentioned above, some camps have short introductory sessions for new camper, while others require a minimum stay of one month.
fees: including the amount, payment structure, potential subsidies, etc.
physical facilities: living accommodations, washrooms, showers, activities, water access, etc.
opportunities for kids' input on programming: some camps have set activities and others provide for an element of individual choice.
parental contact and communication: Is there a visitors' day? Will the camp contact parents near the beginning of the session to update them as to their child's progress and overall situation? Can the camp accommodate communication and dealing with parents who are divorced or separated?
camper-to-staff ratio
food: What is the food like? Some parents will also need to know whether the camp can accommodate special diets or restrictions, including for allergies.
staff training: Does the camp have medical personnel, staff trained in first aid, easy access to a local hospital or medical care?
About the Author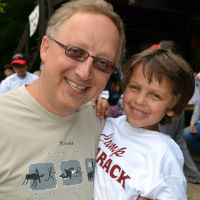 Rick Howard, together with his wife Ellen, is the Director/Owner of Camp Tamarack, a co-ed residential camp in Muskoka, as well as being the Director/Owner of Zodiac Day Camp and Zodiac Swim School in Toronto.
Rick has been involved in running camps for over 30 years, including directing his own camps over the past 15 summers. Rick is also an involved member of the Ontario Camps Association, including being a past president.
Rick and Ellen have three children, Josh (24), Jennie (21) and Rebecca (17), all of whom are now staff members at Camp Tamarack.
READ MORE LIKE THIS:
When packing for camp, don't miss these 6 essentials for overnight camp.
Read about some important ways camp improves kids' self-esteem.
Sending your child to sleepover camp can be stressful, especially if it's their (and your!) first time: here are some key tips for communicating with your child's camp.
Keep informed with all our camps coverage and find the perfect camp by searching our Toronto & GTA camps directory.
Sign up for our newsletters to get parenting and family fun articles delivered to you!