by Deb Lowther
I vividly remember being a kid in the neighbours swimming pool having a blast with my friends and watching all the moms sit on the sidelines in lounge chairs. I never understood why they didn't want to come in the water and play with us.
We were clearly having WAY more fun than they were!
Fast forward 30 years and I have three kids who cannot understand why Mom would rather float in the pool than swim with them. It seems I have become THAT mom that doesn't want to get her hair wet… I kind of get it now. However, I do believe it is very important to keep playing with your kids – we need to stay active as adults, and it is a great way to stay connected to your teens and older kids.
Tip: Keep having fun with older kids
As our kids have gotten older, the amount of sports and activities that we can all do together has increased and I will admit, we are having the most fun with them. Never much of a Barbie playing mom, I am totally right there with them when it's time to go snow-tubing in the winter or biking for ice cream in the summer.
Tip: Follow their lead – Kids have great ideas for active playtime
I have discovered that it is FUN to play with your older kids and maybe try new things just because you can (and they really want you to). Doing what the kids are doing will inspire you to get more active, and really, why should the kids get to have all the fun?
Next time you drive them to an activity, playdate, or party – join in if you can. They are on to something, these active kids with all their fun playtime! Here are just a few of our favourite new activities, discovered since joining our kids in having fun.
To find some of your own fun around Toronto, visit Toronto Amusement Centres, or Sports for Kids in Toronto.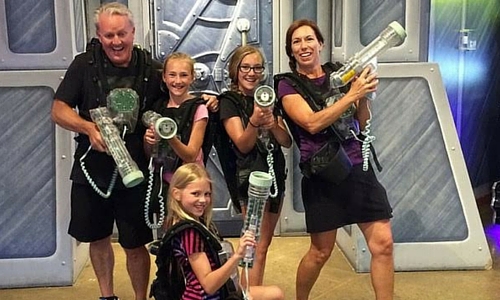 Laser Tag
I booked a laser tag birthday party for my 10-year-old and I didn't just invite the kids, I wanted the parents to stay and play, too. Five other parents took me up on it and we all had a blast. Don't just drop your kids at the door – get in there and play!
Trampoline Park
The latest rage is indoor trampoline parks, and I am always surprised when I am the only parent in there jumping around and sweating! It is so much fun, not to mention a fabulous workout.
Bowling
Fun for the whole family! Work the arm muscles and bowl a few games, maybe engage in a family-friendly competition of scoring the least amount of gutter balls.
Rock Climbing
Do it! Go rock climbing. Kids are natural climbers and if you and your partner take the 45-minutes belay course you can work the ropes for your kids, and for each other. It's a great high (pun intended).
Tobogganing
Get your butt on that magic carpet and go for a spin down the hill – while being safe of course. Tobogganing can still be a lot of fun – even on the baby hill.
Basketball
So many driveways and community parks have a basketball net sitting idle. Grab a ball and get out there with your kids for a little one-on-one. They will love it and you will, too.
Soccer
Dropping the kids off at soccer practice? Help the coach – play goal, offer to pass the ball, or run after wild kicks. Get involved with your kids in their favourite sports – you will encourage them to improve their skills while you get some quality time with them, not to mention a workout.
Don't stop having fun because you think it's kids' play. You really are never too old to try new things. Our kids naturally love to do so many activities and it would be great to see more parents out there with the kids instead of sitting on the sidelines.
Deb Lowther is a mother of three teen daughters who, when not running after the kids, is running on the trails. She ensures her own family has fun while eating healthy and staying active. Find more inspiring tips on her website Raising Healthy Kids, on Facebook and Twitter @Deb_Lowther. Follow Deb's new passion on keeping her generation healthy with Boomer Nutrition website, Facebook and Twitter @BoomerNutrition. As well she shares her thoughts on Erica Ehm's YummyMummyClub with Family on the Run.
READ MORE LIKE THIS:
Stay healthy and informed with our Family Fitness coverage, and find the perfect way to keep the kids active by checking out our Sports For Kids in Toronto directory.
Sign up for our newsletters to get parenting and family fun articles delivered to you!