This pandemic has been a roller coaster, to say the least—our kids were pulled out of school, we were pulled out of work, then they went back, were pulled back out again… it's been hectic.
Now that we are once again out of a province-wide lockdown, as parents, we are slowly trying to get back to some semblance of normal. We're constantly working to find ways to give our kids back some of the things they've missed since March 2020—all while keeping them safe, of course.
It wasn't easy saying goodbye to pool parties, Christmas with the family, and even going down the slide this summer, but we've found ways to make it work and bring a little bit of joy back into our kids' lives.
One way has been through the re-introduction of birthday parties. They haven't looked the same as they did pre-COVID but our kids have appreciated being able to celebrate, in some small way, with their friends. And now that lockdown 2.0 is easing, we'll be able to safely do so again.
But things have changed, and there are some things that we, as parents, need to make sure happen to ensure the safety of everyone involved. If you are throwing a birthday party, there are some new COVID-era etiquette rules that you need to follow.
Communication
You wouldn't just send your kid to party these days without knowing exactly what was going to be happening when they were out of your sight. Sure, 2019 You wouldn't have hesitated to send your kids off to any number of vague birthday party invitations. But post-pandemic You knows that that reality is long gone.
When planning a birthday party, think about the information you would want to be given before you made a decision and be sure to include that in your invitations:
How many kids are going to be attending the party?
Is this a strictly outdoor party or are the kids going to be inside at any point?
Are parents allowed to come and if so, how many?
Are kids expected to wear masks?
Will there be shared foods like bowls of chips or candy?
Will there be singing?
What will the activities be?
It may seem like information overload, but it's best to give your guests and their parents as much context beforehand so they can decide on what is best for their family.
As always, be sure to ask the parents for any allergies or health issues that you should be aware of.
It's also important to reiterate that if their little one is feeling under the weather or has any symptoms on the day of the party, it is best to keep them home.
Food and Drink
In 2019 and earlier, it wouldn't be uncommon to attend a kids party (or an adult party) with bowls of chips, communal salsa, a large veggie tray, and other shared food items.
And while that was so nice and so easy for us parents, we now have to think of ways that we can individualize our food at parties.
Instead of a cake, try individual cupcakes for each kid. You could also go the route of a prepackaged individual cake—we love this cake-in-a-jar idea from Toronto and GTA baker, Sammy Cakes.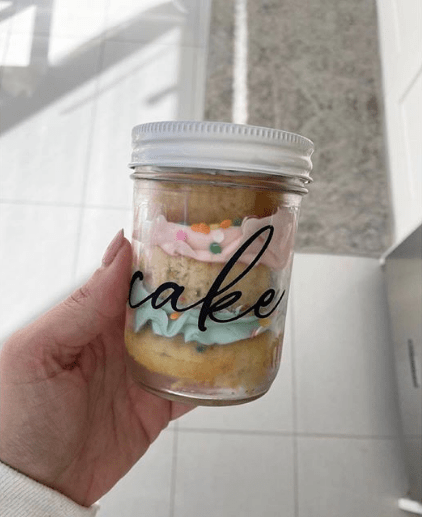 You can also do individual bowls or bags of chips, veggies, and any other snack foods you have on offer. You can have kids bring their own water bottles to ensure you not only keep things safe, but you also help the planet at the same time.
When it comes to a full meal, think about prepackaged foods that can easily be distributed—I know Lunchables are a huge hit in my house! Alternatively, make sure that each kid is served their food by an adult—you want to avoid little hands reaching into the pizza box for example.
Activities
There are lots of great birthday party activities you can plan that are safe for the kids and are still a ton of fun.
If you are planning a virtual birthday party, there are so many amazing service providers that are creating fun, engaging virtual experiences for kids. From chocolate-making parties and dance parties to LEGO-building events to slime-making parties, there is something sure to get your kid excited to celebrate. Check out our favourite virtual birthday parties you can book online.
If your party is in-person, there are a lot of great party providers that either come to your home or help you throw a fun, safe birthday party at their venue. You can have a princess come to your home to celebrate from a safe physical distance or have a glam day at the spa. You can have a magician come to your home or celebrate by letting your kids get creative with clay. Check out our favourite in-person birthday parties currently running in Toronto and the GTA.
Loot Bags
While we know kids love love love leaving a birthday party with a loot bag, COVID means we need to rethink how—and even if—we give out loot bags.
If you are set on giving out loot bags, but you are having a virtual party, you can arrange to drop off the loot bags before the party—remember to keep it contactless. You can also include any needed items for activities as well as a cupcake or sweet treat to be shared during cake time.
For in-person parties, focus on individually packaged items like hot wheels, packages of stickers, individually wrapped candies, and craft kits. You can also think about including a themed mask in the loot bag and giving them to the kids before they enter the party.
If you want to give a loot bag but want to avoid giving out actual items, brainstorm some fun virtual gift items that can work as your loot bag—think about gift cards, credits to a popular online game, or vouchers for a local restaurant.
You can also just choose to skip the loot bags altogether this year. It may seem a bit sad, but the kids won't be too bummed and you can avoid any additional stress that safely creating and giving out loot bags may cause.
When it comes to planning a COVID-era birthday party the key is to keep it simple and keep it small. Be sure to communicate with the parents of your guests and plan. With these tips, you'll be able to have a COVID-friendly birthday party that your kid will never forget.