Planning a birthday party in winter may seem like a challenge. It's true that summer party options are plentiful. Letting the kids run wild in the backyard…what could be easier?
But winter brings its own joys, and indoor parties can work at any time of year. And while DIY parties are fun, you can always outsource one or two things, like a party entertainer or the food or cake.
Don't count out booking your party elsewhere, either: venues that host and plan parties can actually save you money (and time, of course) and are a no-mess, no-stress option, leaving you to simply enjoy the day with your child.
Here are some great ideas for DIY winter parties—and indoor parties at any time of year—for toddlers, kids, and tweens.
North Pole Party
A twist on the traditional winter wonderland party: bring in arctic creatures like polar bears, penguins, reindeer, and maybe even some imaginary ones like the Abominable Snowman!
Build igloos out of sugar cubes, play pin the tusk on the narwhal, and set up a hot cocoa bar (pictured) with whipped cream, marshmallows and other toppings, sprinkles, and stir sticks made from Pirouette-style cookies or candy canes.
Loot-bag ideas: mini animal figurines, snow globes, hot-cocoa mix or kits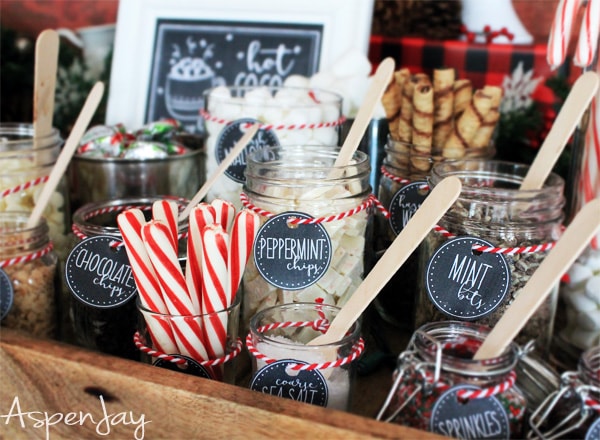 Baking Party
Kids love being allowed to make a mess, and eating what they've baked (or taking it home) is a sweet reward. Be sure to plan an activity while treats are baking so kids don't lose steam. Providing chef's hats and aprons for each kid are both practical and take care of party favours.
Loot-bag ideas: baked treats, kid-size aprons and/or chef's hats
Worried about the mess, the space, or your ability to keep a gaggle of children safe in the kitchen? There are plenty of cooking schools or programs that specialize in cooking, baking, or even chocolate-making parties for kids. Some will even come to you.
Find kids' cooking party places in Toronto/GTA
Sledding Party
Take it to the snow with a tobogganing or skating party. Wear the kids out and they'll be more than ready to chill with Thermoses of hot chocolate afterward. Plan for a hot meal or warm snacks when you head back inside.
Have fun making edible snowmen from powdered donut holes. And this party is a great excuse to bake a lopsided cake—on purpose! Frost with white icing and add some mini-figures and it's a snowy sledding hill cake (pictured).
Loot-bag ideas: flying saucers, toques, gloves, cocoa mix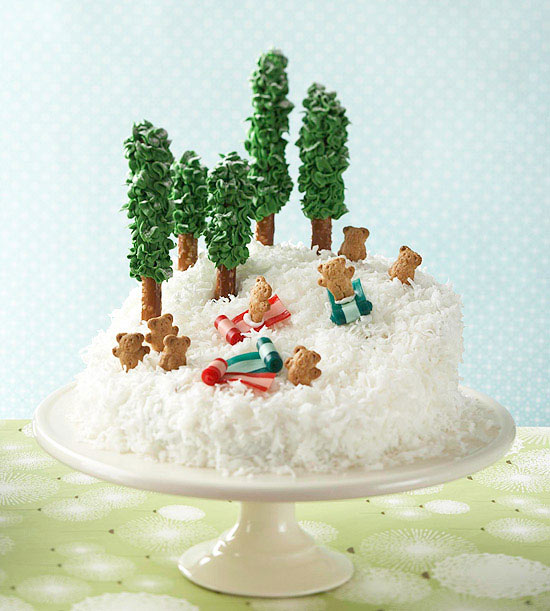 Sports Party
Have a little sports lover on your hands? Try a basketball- or football-themed party. Send playoff-game-style invitations, play mini versions of the games or break out an interactive video game.
A chili bar with lots of DIY toppings is a fun food idea.
Loot-bag ideas: balls, snazzy athletic socks, reusable water bottles
Find sports parties in Toronto & the GTA
Tumbling Party
When you add up the cups, the plates, the activities, the favours, the time spent organizing, shopping, cooking, and cleaning up, outsourcing your party can be so worth it! Do something special like a gymnastics, trampoline, or circus skills party.
Decorate-your-own leotards, or tie-dye them for take-home loot bag alternatives.
Loot-bag ideas: decorated leos, sparkly hair ties, tote bags, small gym towels, hula hoops
Find gymnastics, trampoline, and circus party places in Toronto & the GTA
Dress-Up Party
Get kids' creative juices flowing with a tickle trunk full of costumes, hats, and more. Hit a local thrift store or party store for the craziest, sparkliest, kookiest hats, shoes, sunglasses, clip-on earrings, feather boas, and other dress-up clothes you can find. Let kids borrow grown-up purses, hats, shoes, ties.
Activity for the party: kids make their own crowns, masks, wands, tails or jewellery. Be sure to set up several viewing stations with mirrors.
Loot-bag ideas: hair accessories, costume masks, crowns, sunglasses, capes, magic wands, feather boas
Spa Party
Winter is the perfect time to cozy up indoors and try out and nail polish colours, make your own body scrubs, and sip smoothies while your feet soak!
Why not hand over the heavy lifting and take a breather yourself? Spa party organizers can come to your home or bring you to their studio, where girls concoct a signature perfume fragrance or get glittery mani/pedis.
We love the idea of making sock cupcakes with nail polish bottles (pictured); check out a tutorial from The Tiptoe Fairy.
Loot-bag ideas: nail polish, spa socks, bubble bath, reusable water bottles
Find kids' spa party places   Find at-home kids' spa parties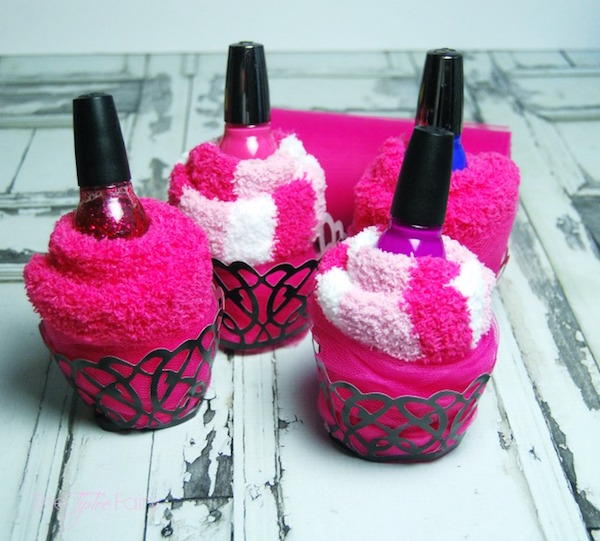 Karaoke Party
Have you been looking for an excuse to buy a karaoke machine? Blame it on the kids! You could also rent a machine or just use a karaoke app for your phone or tablet.
For kids who really love to sing, consider a ready-made music party—some at real recording studios where kids cut their own demos or make a music video.
Loot-bag ideas: egg shakers, mini harmonicas, finger cymbals, echo microphones
Find music & movie birthday parties in Toronto & GTA
Beach Party
Take a break from winter for a day! Crank up the thermostat and bring the beach indoors with beach towels, umbrellas, and beach balls. Pick up some kinetic sand and have a sand-castle-building competition.
Serve sand-dollar or starfish cookies, sand buckets of snacks, and virgin piña coladas.
Did you know you can rent pool time for events? Rent pool time for your party with the City of Toronto indoor pools, Richmond Hill pools (including the Richmond Hill Wave Pool), or City of Mississauga pools.
Loot-bag ideas: Flip-flops, sand toys, fish stickers and stamps, beach towels
Art/Craft Party
Spark their creativity, keep them from going too bananas indoors, and give them something unique to take home. It's a win-win-win! There are so many crafts to choose from out there, but we love these two ideas executed by Glory at Glorious Treats: decorating a wooden initial of each child's first name and decorating cookie "canvases" with food-colour markers.
Don't have the crafting bug? Book an art party art party that comes to you, from beading and t-shirt making to origami and fashion design or book a party at an art- or craft-specific venue like a paint studio, ceramics studio, or the Art Gallery of Ontario.
Loot-bag ideas: paint brushes, finger paints, stamps, mini canvases
Find kids' art and crafts party places
Find kids' art and crafts parties that come to you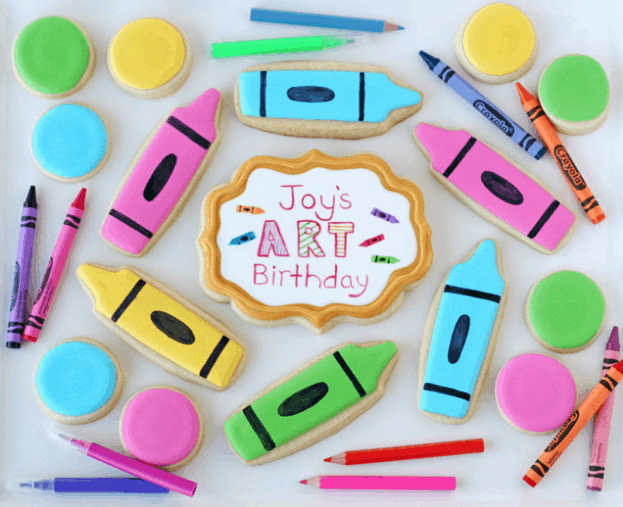 Roller Skating Party
Roller-skating parties were fun when we were kids, weren't they? These days, there are precious few roller-skating rinks, but venues like RINX (North York) and Scooters (Mississauga) offer up blast-from-your-past skating parties with food, music and coloured lights and disco balls. Tween girls may enjoy going to see a roller derby match!
For decorations and food, go with a rainbow or neon theme. And we think pizza is a classic for a roller-skating party.
Loot-bag ideas: rainbow shoelaces, patterned knee socks, brightly coloured headbands