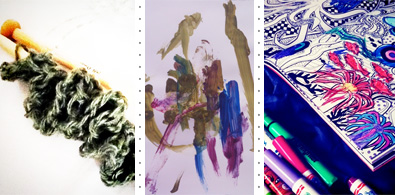 We know that art makes a huge impact on children's learning, and taking a class or two to expand their tiny minds is an excellent form of mental exercise. Besides, we love the wee crafts they come home with..we can never have enough lopsided coffee mugs or magnet photo frames.
If you're in Toronto and want to instill a love of creativity in your children, try a class at Avenue Road Arts School where classes are taught by artist/educators and small class sizes allow for plenty of individual attention. Another great place to send them is Wanda's Creative Clay, where they can make things from clay (and bring them home without the mess!). Another Toronto studio with classes for kids is Artistic Way, where kids will develop their artistic skills and expand your imagination while a professional artist guides your explorations.
If you're in Ottawa, why not try an art class at The Ottawa School of Art? With classes for kids and adults you might find something that fits everyone's schedule and taste (they teach everything from cartooning to sculpture). If pottery is something you've always wanted to try (and your kids are into it too), head to the Gloucester Pottery School where kids and adults can learn to throw and handbuild. One of our favourite art studios in Ottawa is 4Cats Art Studio; they really know what creativity is all about. From creating your own Harry Potter-esque magical creature to celebrating Jackson Pollack's birthday with Pollack-inspired art, their classes are hits with the youngins.
If you call Calgary home, try expressing your creative side at the Wild Flower Arts Centre, where kids can dance, paint, draw or try their hand on the potter's wheel. Or, for a change of pace, why not try a class at Pinkmittens2 – kids can take one in drawing fairies and goblins or learn to do Chinese Brush Painting. Or, if upcycling is your style, why not enroll the kids in a class at Liliana's Ecorations, where they offer Eco Art classes and workshops for children and adults.
In Vancouver, kids can learn about mixed media art at Marta Demaria's studio where she does everything from painting and drawing to sculpture and installations. Or look at the classes being offered at the Arts Umbrella – they have inspiring visual, media and performing arts classes available in Vancouver and Surrey. Georgia's Art School is another place that's great for kids, they offer classes catered to each age range and teach everything from understanding art to colour and composition. If knitting is something the kids are interested in, take them to a class at Three Bags Full Knit Shop, and they can knit themselves a scarf or a neck-warmer…or maybe a sweater!
What better way to make sure the kids are learning and expanding their minds than enrolling them in an art or crafts class. And while you're dropping them off, enquire about adults classes that run at the same time. You never know — you might discover a hidden talent!
If you're interested in other places to enroll in art classes, or if you're looking for art supplies, check out our listings in Toronto, Ottawa, Calgary and Vancouver.