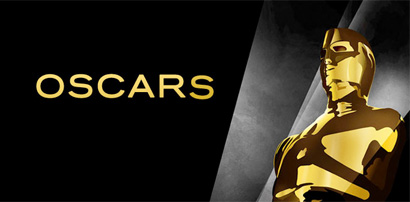 The Oscars are coming up on Sunday, February 24th.
We love the glitz and glamour of the Academy Awards — the dresses, the jewels, the red carpet — it's all so exciting. While our kidlets may not stay up late enough to watch the whole show (seriously, we rarely make it to the last award since becoming parents), that doesn't mean they can't help celebrate Hollywood's most indulgent event.
With the Oscars being hosted by Seth McFarlane this year, there may be a few more times that we'll want to cover our kids ears, but it is sure to be a great show. Having an Oscars party is lots of fun, and something we have some great ideas for including the kidlets.
Make Your Own Invites:
Send in a fancy envelope (that says "and the invitation goes to…" above the recipient's name or send out an awards-themed one from evite.com.  Ask invitees to come "red-carpet ready" — which can mean anything from sequins to feather boas to a simple pair of sunglasses or some fancy faux jewellery.
Have Dress-Up Options Available:
Have dress-up clothes and old Halloween costumes on hand for those who want to look the part when they arrive. Hit the dollar store for necklaces, sunglasses, tiaras and feather boas for everyone.
Plan Award-Winning Music:
Download a winning selection of songs that have won or been nominated in the past. Some songs that work for kids and adults alike include:
"Zip-A-Dee-Doo-Dah" from Song of the South
"Whatever Will Be, Will Be (Qué Será, Será)" from The Man Who Knew Too Much
"Moon River" from Breakfast at Tiffany's
"Chim, Chim Cheree" from Mary Poppins
"The Bear Necessities" from The Jungle Book
"Rainbow Connection" from The Muppet Movie
"Fame" from Fame
"Eye of the Tiger" from Rocky III
"What a Feeling" from Flashdance
"Footloose" from Footloose
"Ghostbusters" from Ghostbusters
"The Time of My Life" from Dirty Dancing
"Storybook Love" from The Princess Bride
"Under the Sea" from The Little Mermaid
"Beauty and the Beast" from Beauty and the Beast
"A Whole New World" from Aladdin
"Can You Feel the Love Tonight" and "Hakuna Matata" from The Lion King
"You've Got a Friend In Me" from Toy Story
"Accidentally In Love" from Shrek 2
"Jai Ho" from Slumdog Millionaire
"I See the Light" from Tangled
"Real In Rio" from Rio
"Everybody Needs a Friend" from Ted (written by this years Oscars host, no less)
Have a Red Carpet Entrance:
To make your a red carpet, roll out a length of red fabric or paper to use as the kids' red carpet. Be ready to take pictures of guests as they arrive at the party. You can send the photos to them later by email.
Play Some Oscars Party Games:
Play simple but thematic games like "Pin-the-Oscar-on-the-Celebrity" or feather boa toss. Have a poster of the star and try to pin the oscar close to their head or hand. For the feather toss tie boas into small circles and "toss" them over a small statuette of the famous gold man (or any statuette will do).
Snacks:
Kids and adults alike love party foods, especially when you serve things like caramel corn, an avacado bar, warm spinach dip, devilled eggs, spiced nuts and even shrimp cocktail. And don't forget to pop loads of popcorn for munching. Reusable popcorn containers from the dollar store add an authentic movie theatre touch, or print out your own containers onto card stock and put together for the party.
Drinks:
Bubbly is the obvious choice, but not for the kidlets! Juice with a bit of soda water or carbonated drinks like lemon or grapefruit punch are great. Get some plastic champagne classes so everyone can toast the winners.
Have a Ballot:
Have an Academy Award ballot (download here) for adults to vote beforehand and see who guesses the most movies. Make one for the kids with the nominees for Best Animated Feature Film — Brave, Frankenweenie, ParaNorman, The Pirates! Band of Misfits and Wreck-It Ralph so they can play along.
Don't Forget the Bag o' Swag:
It can include candy, chocolate, sparkly nail polish, a CD of the music for the night, a DVD (most large retailers have great 2 for $10 buys), a small colouring book, and some sparkly or scented markers.
Did That Help!? Try These: