Make school projects a little easier with one of these DIY ideas to create a dedicated homework space at home.
Doing homework might not be your child's favourite way to spend their after-school time, but you can make it a little more appealing by creating a customized space where they can get down to business.
We rounded up some simple DIY homework station ideas that are sure to get an A+ from your kids.
1. Ikea Raskog Homework Station Cart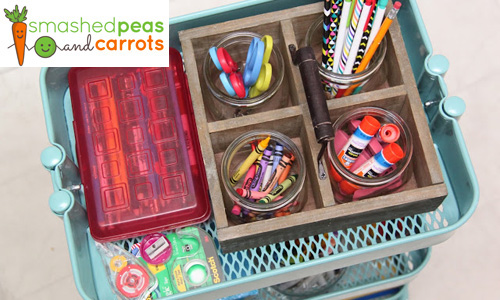 We love the look of this sleek mobile homework station, an Ikea hack we first spotted over at Smashed Peas and Carrots.
Blogger Maggie made this supply cart for her kids using a simple Ikea Råskog kitchen cart, stocked with markers, pencils, notebooks and everything they'd need during homework time.
The cart can easily be tucked away in a corner of the kitchen when not in use, and pulled up to the table when it's time to work. As a bonus, when the kids outgrow the cart, you can use it for extra kitchen storage!
2. Lazy Susan Homework Station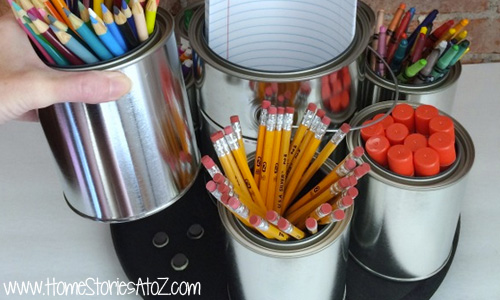 This clever DIY from Beth at Home Stories A to Z puts a new spin on a classic wooden lazy Susan. With a few inexpensive materials, Beth has created a supply station that keeps essential homework tools well within her boys' reach. You'll find the complete instructions over at Home Stories A to Z.
3. Folding Homework Station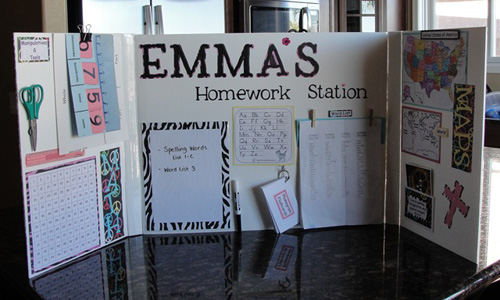 Even small spaces can become awesome homework stations with a little imagination! This homework station from Sunflowers to Cacti was made from sheets of foam board and customized to include information sheets and maps.
We also like the idea of attaching school supplies to the board to keep them neat and organized. In addition to creating a cubby that tunes out distractions, this little homework centre can be folded and tucked away when not in use. Brilliant!
We've also seen variations on this homework station using a piece of tri-fold cardboard (think science fair projects). You can decorate to suit your child's personality and interests—let them get in on the fun and be as creative as they like!
4. Portable Homework Station Supply Box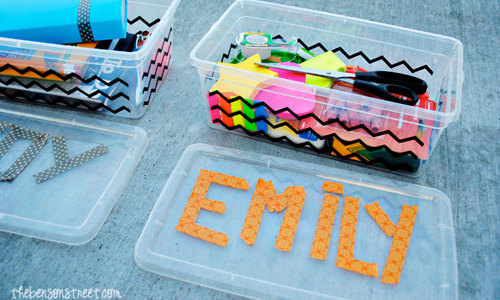 Another great space-saving idea is this homework-station-in-a-box from The Benson Street. Blogger Emily put these portable homework totes together to make it easy for kids to do homework anywhere, any time.
A simple plastic tote keeps essential school supplies organized, and can be stashed on a shelf once homework is complete. We like Emily's suggestion of using washi tape to customize the tote and give it a little extra style. Head over to The Benson Street for more details.
For another great spin on this idea, simply transform a plastic shower caddy into a portable homework station, like this one from A Bowl Full of Lemons. It doesn't get much easier, or more budget-friendly!
5. Homework Station with Seat Sacks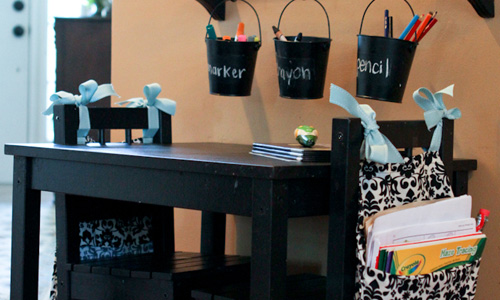 If you've got a little extra room to spare, setting up a dedicated child-sized homework table is a great idea. We like this version from Scissors & Spatulas, which includes a mini table and chairs, along with hanging chalkboard-painted buckets for supplies, and adorable DIY seat sacks to keep notebooks and papers organized. Even if you don't have a lot of sewing experience, this project will be a cinch.
Visit Scissors and Spatulas for details on how to make your own seat sacks.
6. Budget-Friendly Homework Station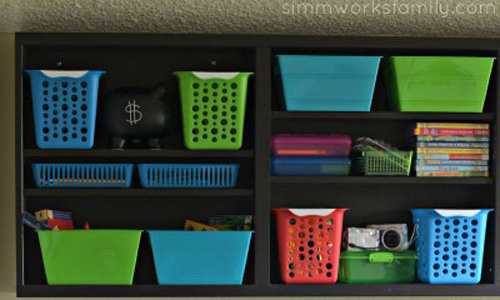 Putting together a robust homework station for older kids doesn't have to break the bank, as demonstrated by Danielle at Simmworks Family Blog. Danielle's organized and efficient homework station features many items that you can pick up at your local dollar store, including plastic storage totes, clipboards and other supplies.
7. Easy Homework and Art Station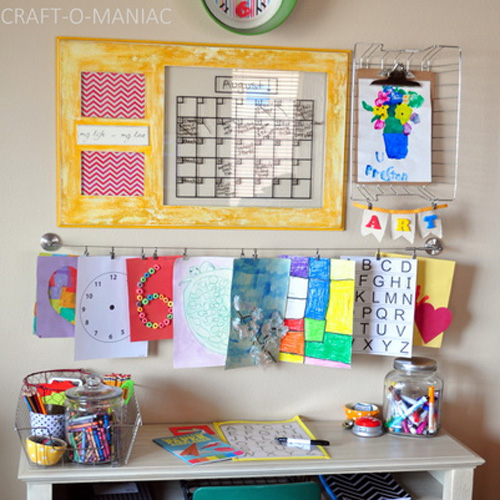 How sweet is this homework-and-art station from Craft-o-Maniac? We love this station because it combines homework space with a place to create and show off artwork, and even works in a DIY wipe-off calendar to keep the whole family organized. And, as mom-behind-the-blog Jen points out, many of the items in this ultra-functional space were gathered from around the house, which helped to keep costs low.
Find out more about Jen's DIY homework and art station over at Craft-O-Maniac.
8. Closet-Turned-Homework-Station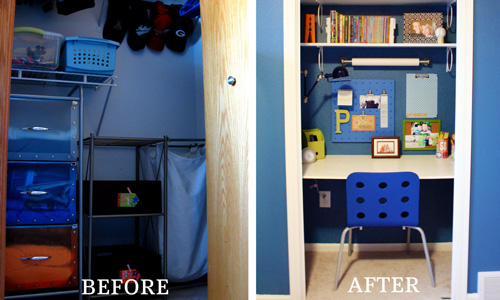 This may just be the coolest homework station we've ever seen! A boring old closet was given a new purpose and a big style boost, thanks to Jen from I Heart Organizing.
If you find that your child's closet is storing more junk than clothing, this project is worth considering. We love that this homework station can grow with your child, offering a fun and practical workspace whether they're working on a science fair project or a high school essay.
Visit I Heart Organizing to find out how Jen created this beautiful study space.