There is no such thing as having too many books when trying to encourage your child to read. But, as you acquire more books there is a growing chance of unsightly book piles appearing throughout the house, which can be hazardous to your dainty toes.
To avoid such a scenario, here are seven ideas to help turn your children's book mess into a beautiful and organizational dream come true.
1. Vintage Spool Side Table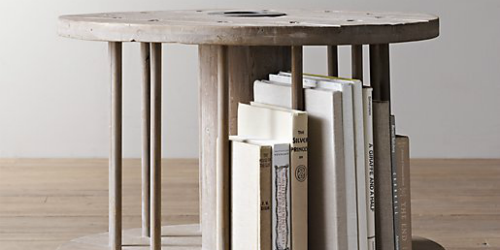 Objects that serve two purposes are key in homes where square footage is tight, which is the case for many homes in Toronto.
Restoration Hardware takes inspiration from oversized cable spools to create side tables, and incorporates spindles to store books like a bookcase. They also insert a metal cup in the top to hold markers, crayons and the like. The natural, worn finish makes the table suitable for any room in the house.
2. Skateboard Bookshelf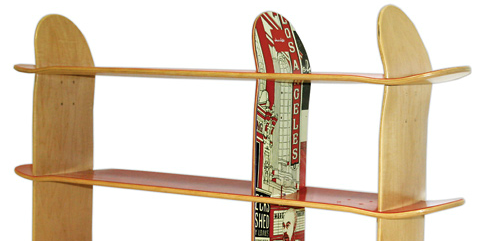 The California company Skate Study House gives used skateboards new life as an eye-catching shelving unit. The bookshelf is made of six crossed skateboard decks with either a maple stain or visible branding.
This book storage option is perfect for a skater's bedroom or even your family room, because it's just that cool.
3. Picture Ledges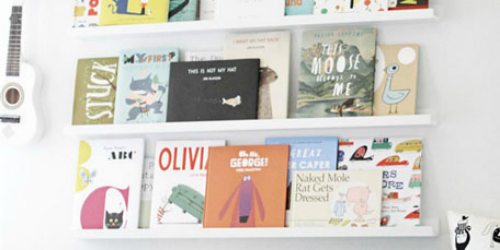 Children's books are mini works of art and deserve to be on display. Consider Miroslav Sasek's This Is series or the new covers for Kenneth Oppel's Airborn series.
As shown by Mommo Design, picture ledges from Ikea allow books to be shelved face out and then you can group them by colour, theme, or illustrator for a stylish look. Better yet, line several across an entire wall to create your very own museum exhibit.

4. Tree Branch Bookshelf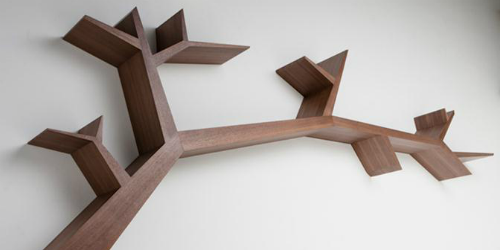 French designer Olivier Dollé merges pretty, playful, and practical in this birchwood, walnut-veneer shelf. You can easily design a nature-themed bedroom around this gorgeous centerpiece that can be used for everything from books to photos to special collections.
5. Tree Trunk Bookcase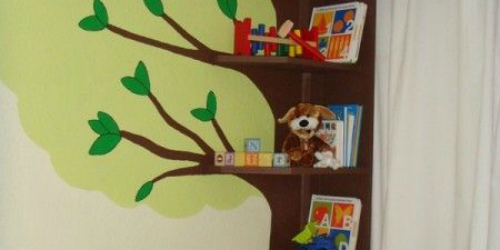 Integrating a bookcase into a mural is a brilliant idea, especially in this case found by Alice T. Chan that has tree branches painted to align with the shelves. If you're not partial to painting, you can pull off a similar look with a large-scale decal.
6. Cubby Library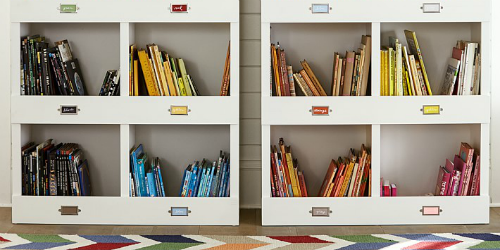 There's just something about metal plaques that elevate a basic bookcase into a charming piece of furniture.
The large cubbies hold a ton of books and the thick white fronts add heft and impact. Pottery Barn's colour-coded groupings (pictured) take organization to a whole new elegant level.
7. Closet Bookcase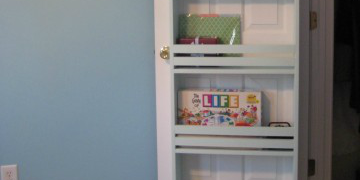 Shelves fastened to the inside of a standard or bifold closet door uses up otherwise dead space. This idea by Ana White keeps the mess at bay and makes for a cool reading nook by putting a bean bag chair in the closet and handing your child a flashlight.
READ MORE LIKE THIS:
Still need more book organization ideas? Take a look at these other 9 Ideas for organizing kids' books at home, to avoid drowning in a sea of books.
Does your family have so many shoes that your kids can't even count that high? Get your entryway organized with these 6 simple and cheap shoe-storage solutions.
Although it may seem like an impossible feat, find out how to get your kids to clean their rooms without the use of bribery!
Sign up for our newsletters to get the latest articles delivered to you!