Organizing the shoes that inevitably pile up by the front door is an ongoing battle in many households. We know we're not the only ones tired of tripping over sneakers and boots several times a day!
Save yourself some grief by implementing one or more of these smart, inexpensive storage solutions for kids' shoes (and your own shoes) that don't involve an cluttered-looking shoe rack out in the open or pricey custom-built shelving.
1. Low DIY Shelving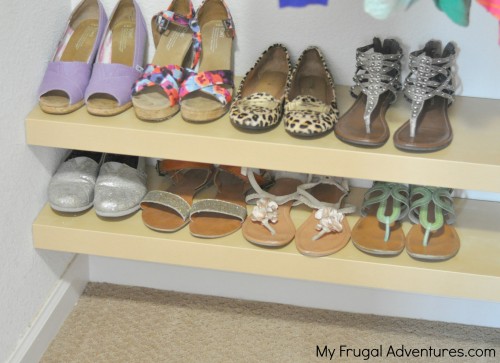 Are you using your closet space to its full potential? If you've got a foot or so down near the floor, it could be put to use with some inexpensive shelves that can double or triple your shoe storage capacity.
Kudos to Charlene at My Frugal Adventures for clueing us into this great, low-cost Ikea hack!
2. Labelled Baskets or Boxes

Keep things tidy by tucking bins or baskets into a cabinet or low bookshelf or under a bench or credenza.
If you're extra-efficient, like Jen from I Heart Organizing, you can label each bin with type of shoes or with each family member's name. (We are pretty impressed byher ultra-organized cubbies for her kids!)
3. Screened Shoe Organizer

Those over-the-door shoe organizers are great, but we hate having them clutter up the backside of all our doors and banging around every time we open the closet.
Solution from small-space design blogger Janet Lee: put a standing screen in an entryway, mudroom, or bedroom, and hang the shoe organizers on the back—and voilà! Storage for dozens of pairs of shoes, hidden just out of plain sight.
4. Mounted Hideaway Storage

You can't deny that these floating storage bins from Ikea do the job. They are inexpensive, they're unobtrusive, and they hide shoes away.
Don't love the look? They're shallow enough that you could install them inside a closet, behind coats or to the side, without cutting into your closet real estate too heavily.
5. Wine Tote

This clever idea is from Darla DeMorrow at Heart Work Organizing. Using a big, boxy tote and cardboard wine-bottle dividers, she created storage for 18 pairs of kids' shoes! (Larger adult shoes can be placed one per slot.)
Just zip it up and it's neat and tidy—or ready for kids to lug up to their rooms and out of sight.
6. Stand-Alone Bins

It won't keep shoes especially organized, but it'll keep your space tidy: throwing shoes directly into a bin or basket is as easy as it gets, so there are no excuses for not putting your kicks "away"!
We like these canvas bins from 3 Sprouts because they have a polyethylene coating inside that's easy to wipe clean after being barraged by mucky shoes. Plus, they're cute! But if you want something less kidlike, you could opt for these lovey woven baskets (with lids!) at West Elm.
Read more like this:
Once you've got the shoes sorted, tackle the toy clutter with these 11 smart ways to organize kids' toys.
Make studying fun (or do your best!) with these 8 DIY homework station ideas to keep them on task after school.
These 7 great organizing and scheduling tools for families will keep everyone in line and on time for pickup from school, sports, lessons, etc.
Sign up for the Help! We've Got Kids newsletter for more great articles, directly to your inbox—plus contests and exclusive offers!